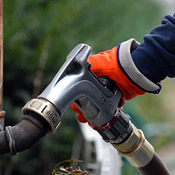 HOME heating oil distributors in Co Donegal are experiencing a massive surge in demand ahead of a new tax bombshell for struggling families which comes into force next Wednesday.
The recent cold weather and another increase in prices at midnight last night has forced prices up further.
The Government announced in Budget 2012 that carbon tax was increased by €5 to €20 per tonne of CO2 emitted on fossil fuels.
The increase applied to petrol and diesel from last December.
But the increase will apply from next Wednesday, May 1, to kerosene, Marked Gas Oil, Liquid Petroleum Gas (LPG), fuel oil and natural gas.
It means an extra €15 tax will be slapped on 1000 litres of home heating oil.
Last night prices rose another €12 for the same amount.
The average price of 500 litres in a donegaldaily.com survey was €470.
With the carbon tax and latest increases, some distributors admit that could break the €500 barrier within days – €1 per litre.
That would mean the price doubling in the past five years.
One distributor told us: "People can't afford to buy huge amounts of oil anymore. Most of my customers are buying 100 litres or 200 litres at a time because it has become more expensive.
"A lot of families were hoping to squeeze through until the end of the summer but the recent cold weather has led to an increase in demand.
"Some customers have said they have ordered now to beat the tax increase next week and that has also pushed up demand in the past three or four days."
The carbon tax does not apply to solid fuels, so there will be no increases for peat or coal.