It's official – Donegal is still saying no to the controversial household charge in massive numbers.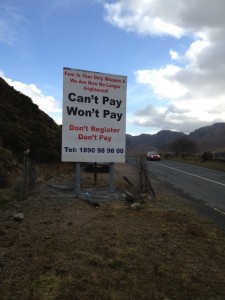 Latest figures show that 73% of homeowners here, the highest number in the country, have not registered for the controversial charge.
Government efforts to track down homeowners refusing to pay the household levy have moved a step further with new rules agreed on the sharing of personal data details with collectors.
The Local Government Management Agency (LGMA) — the body collecting the charge for the department — will now prepare to cross-check details of those who paid and did not pay with the Revenue Commissioners, the Department of Social Protection, and electricity suppliers as well as the Private Residential Tenancies Board.
Latest figures show that just 17,408 registered to pay the charge out of an estimated 65,331 estimated as liable to pay across Co Donegal.
Donegal is followed by Roscommon on 66%, Galway has a 63% non-compliance rate while 61% of householders in Cork have not yet registered.
Donegal has remained among the leading counties opposed to the charge.
It follows a succession of angry meetings across the county organised by the 'Can't Pay Won't Pay' lobby group.
The group continue to hold meetings to urge people not to cave in and pay the charge.
Environment Minister Phil Hogan continues to warn that local authorities will lose out on funds if there is a shortfall in the collection.
Anyone who doesn't pay the €100 charge before the end of September will have to fork out an additional €10.
Those who don't pay until between October and the end of March next year will have to pay an extra €20 charge. Householders who don't pay until after Apr 1 will have to pay €130.
Tags: