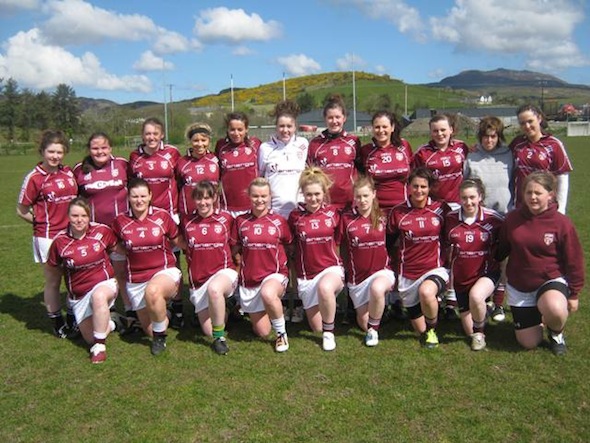 ALL-COUNTY JUNIOR LEAGUE Termon  5-08   St  Patrick's  Muff  1-06
BY JAMES TREARTY: Termon  Junior  Ladies  had  a hard  earned  victory  over  St  Patrick's  Muff  at  the  Burn  Road  on Sunday.
Played  in  very  difficult  conditions  with a swirling  cold wind  that  blew from  the  North  it  was  not  a  day for  the  faint  hearted.
Muff  lost  the  toss  and  Termon  played  with the  wind  that blew  straight  down  the  field.
Termon  got  off  to  an  ideal  start  with  points from Fiona  Mc Laughlin, Lisa  Mc Glynn  and  Aisling  Ryan  before  Dara  Kelly,and  Sharon Mc Laughlin  had  goals  to  put  the  Burnroad  side  in  the  driving  seat  after fifteen  minutes. Indeed   the  Mc  Laughlin  sisters Sharon   and Fiona   with  Tara  Mc  Daid   were  thorns in  Muff's  side. Aoife Ryan,Holly  Mc  Daid and    Lisa  Mc Glynn  all  were  to  the  fore  when  experience  was  needed. Muffs  woes were  compounded  when several  scoring  opportunities  went a begging for the  Foylesiders and  indeed it  was no  surprise when  Termon  went further  ahead Lisa  Mc  Glynn  and Tara Mc Daid   added  to  Termon's  tally   to  leave  Halftime  Termon  4–7  Muff  0–00
As  the  second  half  got  underway  Harry  Mc Glynn made  what  turned  out  to be  a  very  tactical  move  when  he played into  the  strong  wind. He  placed  Dara  Kelly  in  goals  with  Caroline  Gallagher at  midfield.Kelly  had  an  outstanding  30  minutes  minding  the  house  while the two  Kelly  sisters Maura, Martina  and Orla  Trearty  played a very  supporting  role.
With  two  minutes  gone  Lorraine  MC Colgan  opened  Muffs  account  and  with  County  panellist  Aine  Mc  Laughlin  added another but for stout  defending  by  Termon particularly Anne  Mc  Glynn, Niamh  Callaghan, Shauna Kelly  Muff  would  have  more  scores. In  a  counter  attack  Termon  added  to  Muffs  woes   when  Lisa  Mc  Glynn  received  an  inch  perfect  pass  to  give Carla  Mc  Closkey no chance  in  the  Muff  goals. This was  a  killer  score as Muff  were  in  the  ascendency and  had laid  siege  to the  Termon  goals  without  any  great results.
But  the  fighting  Muff  spirit  was  alive  and  well  and Aine  Breslin with a  wonderful  goal  after  Termon  failed  to  clear  the  lines to  cut  the  deficit. Breslin  added  another  points before Lorraine  Mc  Closkey raised the  last  white  flag  for  Muff. Final  score  Termon  5–8  Muff  1–6
This  score  did  not  truly  reflect Muffs  contribution  to  this  game  and in particular  Aine  Breslin  and  Aine  Mc  Laughlin  who  covered   a lot  of  ground. Up  front  Muff had  good  performances from  Lorraine  Mc  Colgan, Rachel  mc  Laughlin and  Aine Mc  Callion .
Termon  manager Harry  Mc Glynn could  afford  the  luxury  of trying  out  several  positional  changes and  substitutes where  he  called  on the  services  Celine  Mc  Daid, Molly  Callaghan, Debra  Mc  Daid, Roseleen Gallagher  and  Christine  Coyle . A few  of  these panellist will no  doubt  have  staked a claim for  further  consideration.
Termon  team  was . Caroline  Gallagher, Martina  Kelly, Orlaith  Trearty, Maura  Kelly, Aine  Mc Glynn,  Niamh  Callaghan, Shauna  Kelly,  Dara  Kelly,,Sharon  Mc  Laughlin, Aileen  Mc Glynn Tara  Mc Daid, Fiona  Mc  Laughlin, Aoife  Ryan,Lisa  Mc Glynn, Holly  Mc Daid,
Muff  team  was Carla  Mc  Closkey, Shannon  Lynch, Fiona  Grant, Emer Grant, Andrea Mc  Laughlin, Catriona  Grant,  Aine  Breslin, Aine  Mc  Laughlin,  Caroline  Margy, Dypna  Molloy,Rachel  Mc  Laughlin. Lorraine  Mc Colgan, Niamh  Mc  Colgan, Patrica  Margey.
Tags: