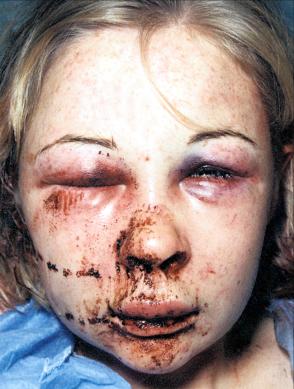 THIS is the picture which shows how a jury was right to find a killer guilty of murder today – it's what Stephen Cahoon did to another victim of his evil outbursts.
It took the jury at the Central Criminal Court in Dublin nearly five hours to return the unanimous verdict against Cahoon, caught by Gardai in Co Donegal.
Cahoon of Harvey Street, Derry admitted killing 30-year-old Jean Teresa Quigley on July 26, 2008, but denied her murder.
But we can reveal that in 1999, Stephen Trevor Cahoon, then aged 27, admitted 15 charges against two women, including grievous bodily harm, assault and threatening to kill.
One victim, Lynne McGall, then 18, from Ballymena was so badly beaten about the face she was almost unrecognisable.
She consented to the release of this picture of her above to show what Cahoon was capable of.
Cahoon was also convicted of assaulting his partner, Samantha Brown, and threatening to kill her.
After a campaign, Cahoon's three-year jail sentence was increased to five years and three months.
Speaking after Cahoon was sentenced at Downpatrick Crown Court in 1999, Ms McGall said he had shown "absolutely no remorse" as he was taken to the cells.
"He turned and looked at Samantha and looked at me and smirked," she said.
"I am totally devastated. It's a joke. He tried to kill us both and he gets three years. He'll be out in six months after leaving me for dead. Obviously what he did to Samantha speaks for itself. It's awful."
Tags: