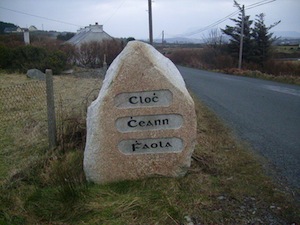 Can't Pay Won't Pay Cloch Cheann Fhaola
The Campaign Against Household and Water Taxes will hold a national conference in The Red Cow Inn in Dublin on Saturday 19th May and we hope that members from our group will attend. Our next protest will have an information stall on Friday 4th May at 12pm at the crossroads in An Fál Carrach. If you have any questions or concerns come and talk to us. Memberships also available. Think Nationally, Act Locally. Local campaign groups are crucial to this campaign and everyone is welcome to come to the weekly information stall/protest and show a united stand together to oppose the unjust household, water and septic tank taxes that the current government is insisting we register for and pay. Come and join us to share your views. Bring non-political posters.  Our next organising meeting will take place in Lóistín na Seamróige (The Shamrock) on Friday 4th May after our protest. Everyone welcome. Info: 0863122784 or 0876111524. Follow us on FaceBook. National campaign: www.nohouseholdtax.org, www.wewontpay.ie
Feachtas 'Can't Pay Won't Pay' Cloch Cheann Fhaola
Beidh comhdháil náisiúnta ag an Feachtas in Éadan na gCánacha Tí agus Uisce ar siúl san Red Cow Inn i mBaile Átha Cliath ar an Sathairn 19ú Bealtaine agus tá súil againn go mbeidh baill ón grúpa s'againne i láthair. Beidh stainnín eolais ag ár gcéad agóid eile ar an Aoine 4ú Bealtaine ar 12 meán lae ar na Croisbhealaigh. Má bhíonn ceisteanna nó imní ar bith ort tar agus labhair linn. Ballraíocht ar fáil fosta. Tá grúpaí feachtais áitiúla ríthábhachtach don fheachtas seo agus tá fáilte roimh achan duine páirt a ghlacadh san stainnín eolais/agóid seachtainiúil agus seasamh aontaithe le chéile a thaispeáint in éadan na gcánacha éagóracha tí, uisce agus umar séarachais atá an rialtas seo ag dearbhú go gcláraíonn muid daofa agus íoc astu. Tar agus bí linn le do chuid tuairimí a roinnt. Póstaeirí neampholaitiúil le bhur dtoil. Beidh an chéad cruinniú pleanála eile againn i Lóistín na Seamróige ar an Aoine 4ú Bealtaine i ndiaidh ár n-agóid. Fáilte roimh achan duine. Eolas: 0863122784 nó 0876111524. Táimid ar FaceBook. Feachtas náisiúnta: www.nohouseholdtax.org, www.wewontpay.ie
Bocsaí Múirín / Compost Bins 
Tá bocsaí muirín de chuid na Comhairle Contae ar díol anois ag na Tithe Gloine i gCill Ulta.  €13.00 an ceann.  Dóigh mhaith le do chuid muirín féin a dhéanamh agus laghdú a dhéanamh ar an bia a fhágann boladh cáidheach sa bhocsa bruscair – ag coinneáil do chuid bruscair níos glaine agus níos tirime.  Más mian leat ceann a cheannach ba cheart scairt a chur ar Seán Ó Duibhir ag 074 918 0994.
There are now County Council compost bins for sale at the Tithe Gloine in Cill Ulta.  €13.00 each.  A great way to make your own compost for the garden and to reduce the smelly stuff that goes into your domestic waste bin – keeping your waste cleaner and drier.  If you are interested in purchasing any you should contact Seán Ó Duibhir on 074 918 0994.
Bancanna Buidéil – Gort a' Choirce
Tá an grúpa comhshaoil Meas ag iarraidh ar an phobal gan málaí brúscar, plaisteach nó cairtchlár á fhágáil chóir nó thart ar na bancanna buidéil le bhur dtoil.  Is áis í seo le gloine, cannaí agus éadach a athchúrsáil agus ar an drochuair, tá an dumpáil seo ag cuir droch chuma ar an bhaile. (www.meas-it.com)
Battery Recycling
The environment group MEAS Iarthuaisceart (www.meas-it.com) is asking everyone to recycle their batteries and not to dump them at the bottle banks or anywhere else in this beautiful countryside.  All retail outlets who sell batteries should now have a battery recycle box on display where the general public can deposit their used batteries.  You do not need to return used batteries to the same shop you bought them from.  The lead in batteries is very detrimental to the environment and they should not be dumped with other household waste.  All battery recycle boxes are then collected free of charge by the county council.  Battery recycle boxes can be obtained by retailers from Suzanne Tinney, Recycle Officer with Donegal County Council, 074-9176276.
Bailte Slachtmhara – Gort a' Choirce
The Tidy Towns Competition will commence on 1st June and Gort a' Choirce have again applied to participate in this year's competition.  This is now our 7th year.  The committee are asking everyone in the village; residents, business owners, visitors and everyone else in the community to make a big effort to keep our village clean and tidy during the summer and early autumn.  A splash of colour with some beautiful country garden flowers is always welcome.  We would also like to keep the village litter free – this to include garden litter i.e. leaves/branches weeds and other debris from hedges/bushes and overhanging trees onto the footpaths/roads.  It would be a big help if residents kept the footpath/road adjacent to their gardens/dwellings neat and tidy by brushing along the footpath and kerbing when possible and lifting any rubbish.  As we are in a very strong Gaeltacht area we also hope to see Irish signage displayed.  The observant visitor then recognises that they are in a very unique part of the country where Gaeilge, our native language, is spoken daily. The ethos of the Tidy Towns Competition is that the whole community gets involved and works together to make it a better place to live.  We are gaining points every year and we also won an endeavour award in 2007.  Judges of the competition will be visiting at some point during the summer months. Buíochas mór d'achan duine as bhur dtacaíocht.
Tags: