Donegal Sinn Féin TD Pearse Doherty has accused the government of abandoning the children of County Donegal.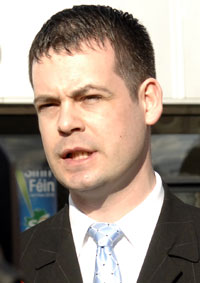 Deputy made his comments as the numbers of permanent primary school teaching posts in the county that are to be removed from their existing school was published.
Deputy Doherty said the loss of 36 permanent teaching posts from Donegal schools is an attack on the children of this county.
Deputy Doherty said "Details published of the numbers of Donegal teachers who have lost their positions in their schools show that Donegal has taken a hammering when it comes to education cuts.
"The Department of Education has confirmed that 36 permanent teachers in catholic schools in Donegal will have to leave their existing schools and look for a job elsewhere. When we compare this to what has happened across the state we see that of the 376 positions 10% of those are coming from Donegal.
"The government can no longer hide the fact that their education cuts were an attack on rural Ireland and on Gaeltacht education, but most importantly they we an attack on the children of my county. Many Donegal schools have already lost positions as a result of previous cuts by the Fianna Fáil government and are now suffering a further blow.
"The 36 teaching positions lost to primary schools across Donegal is even higher when you include schools that have lost a position but that the teacher is able to stay in their schools as a result of another teacher in the same school retiring on taking a carer break. The figure of 36 also dosent include losses in schools under the patronage of the Church of Ireland, Educate together, An Foras Patrunachta or the Special National panel, as a county breakdown is currently available for those schools.
Deputy Doherty described the situation in Co Donegal as an "absolute disgrace".
"It is an absolute disgrace that 10% of all teaching positions removed from schools under catholic patronage are in Donegal. There is no defence for this. It is clear that our government TDs and Senator have failed the people once again.
"At this late stage I call on them to call for a reversal of these cuts and stand up for small rural schools many of whom operate in the Gaeltacht."