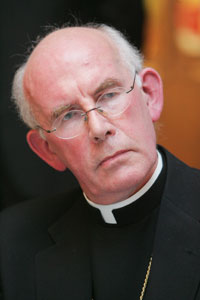 Tonight a BBC This World investigation has revealed new evidence about the role of the leader of the Catholic Church in Ireland in the alleged failure to protect children from child abuse.
The programme also focused on the extensive abuse of children in west Donegal by notorious priest Father Eugene Greene.
However it is the claims about Cardinal Sean Brady which will rock the Church.
The programme claimed that Cardinal Brady, the Primate of All Ireland, had the names and addresses of children who were being abused or were at risk of being abused by Ireland's most notorious paedophile, Fr Brendan Smyth, but failed to ensure that they were protected.
The investigation centred on a secret church inquiry in 1975 when a 14 year old boy,  Brendan Boland, was questioned by the church after he had disclosed  that he'd been abused by Fr Smyth. Three priests took part in the process, among them Cardinal Brady, then Fr John  Brady – a canon lawyer, bishop's secretary and school teacher.
Cardinal Brady took down the answers. Another priest asked the questions.
Tonight Brendan Boland spoke exclusively to BBC reporter Darragh MacIntyre about that secret meeting and revealed the detailed information he gave to Cardinal Brady, then Fr John Brady. His account is verified by the Church's own  transcript of the inquiry, made public for the very first time.
Brendan, now 51, explained how he first fell prey to Fr Smyth as an eleven-year-old altar boy and that the abuse carried on for over two years.
Eventually Brendan found the courage to tell a local priest about the abuse. The priest reported it to the Church and also to Brendan's family. It was shortly afterwards, in March 1975, that the Church set up a secret canon law inquiry.
Brendan recalled the moment he was led alone into a room to be questioned while his father was made wait outside.
"I felt alone, scared, I didn't know what was going to happen. I didn't know what they were going to ask me. I was only 14 years old at the time."
Brendan told the priests about Smyth's abuse – and about five other children that the paedophile took on excursions with him.
Smyth often took children on marathon excursions in his car, up and down Ireland.
Brendan explained: "I'd given them the names of the other children that were with me on the trips. There was a boy from Belfast, I gave them his name and address. There was a girl from Belfast. I gave them her name and address. There was a girl from Cavan.  I gave them her name and address. And there was another boy from Cavan.  I gave them his name and address. And there was another boy that was his friend."
More than that, Brendan told the inquiry that he knew that at least two of the boys were being abused  by Fr Smyth.
"I told them that I witnessed one boy being abused. I told them that…that was the boy from Belfast.
"…I knew for a fact he was abused and the other boy from Cavan, he told me he was abused  'cos he didn't like going on the trips either."
At the end of the questioning Brendan was handed a bible and instructed to swear and sign an oath of secrecy.
"One of the priests came over with a bible and made me put my hand on the bible and say that 'I Brendan Boland, do solemnly swear that I have told the truth the whole truth and I will speak to no one about this meeting only to authorised priests'.
And then I signed it and the other signature on the document was Father John B Brady, now Sean Brady Cardinal of Ireland," he tells the programme.
This World will show the document he signed together with the counter signature of the priest who now heads the Irish Catholic church.
Days later Cardinal Brady himself interviewed one of the boys Brendan had told him about. The boy from Cavan corroborated Brendan's account and confirmed that he had been abused.
Reporter Darragh MacIntyre later met the second boy, now middle-aged.
Remarkably he revealed that his parents were told nothing, about his abuse or about his role in the inquiry.
After this second interview Cardinal Brady compiled two reports and sent them to his Bishop.
Fr Brendan Smyth was later forbidden to hear confession and barred from certain public duties. The police were told nothing and Smyth continued to abuse.
Darragh MacIntyre spoke to all the children named by Brendan to the inquiry in 1975. He discovered that four of them had been abused by Smyth. Two of them continued to be abused after the inquiry. They all say that, to the best of their knowledge, their families were not warned in any way about Smyth.
One of them is originally from Belfast. Now in his fifties, he reveals that Smyth continued to abuse him, then his sister and in turn, four younger cousins, right up to 1988.
He says:  "Nobody came to our house. They should have came to our house and warned our family, or my parents and said look this is what's happening, this man is involved in this. We would strictly advise you to keep him away from the house."
He adds: "Brendan, poor Brendan actually thought giving this information, he thought he was going to protect me and protect other people and thinking this was going to be the end of it. And by God it is far from the end."
In 2009 Cardinal Brady said that he would resign if he found himself in the situation where he was aware that any failings to act on his part allowed, or led, to any child being abused.  When limited details of his involvement in the secret inquiry emerged he said that his role was that of a notary without powers and that he did his job. The church has described him as a note taker and insists he had a minor role in the inquiry.
But This World: The Shame of the Catholic Church revealed that Cardinal Brady, according to his own handwritten note, states  that  he was in fact  "dispatched to investigate the complaint"  about Fr Brendan Smyth.
The Catholic Church has said that "the sole purpose of the oath" signed by Brendan Boland in Cardinal Brady's presence was "to give greater force and integrity to the evidence given by Mr Boland against any counter claim by Fr. Brendan Smith."
The Church also points out that in 1975 "no State or Church guidelines for responding to allegations of child abuse existed in Ireland".
Much of the Donegal investigations focused on its victims, with reporter MacIntyre telling of how he discovered that one of his employees at the Teach Ruairi bar in Gortahork which he once owned was abused by Eugene Greene.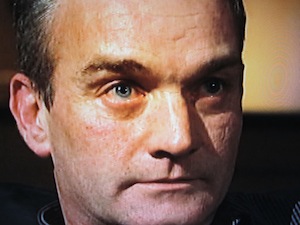 That employee Martin Gallagher, left, gave a very emotional interview to the BBC team about how Greene abused him.
Mr Gallagher said the Church moved Greene around north and west Donegal.
"They're moving this priest – it's like spreading a disease from one corner to another," he said pointing to a map of Donegal.
"It's simple the bishops spread the disease he had the disease they spread it.   As simple as ABC."
Also featured was retired Garda Martin Ridge who took MacIntyre to the chapel on Inishboffin Island and showed him a small apartment behind the altar where Greene raped his victims.
Ridge told the programme: "I don't believe a week went by in West Donegal where you hadn't a child or a number of children sexually abused . It's horrendous.
"Anywhere you look around here which is so hard to fathom: by-roads, side roads, churches, schools – the abuse here was something unbelievable, unbelievable. And the fact that nobody in the public spoke out about this after the total carnage here."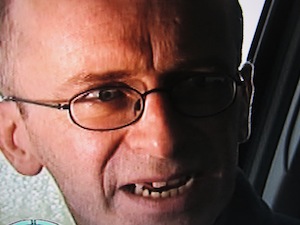 Another Donegal victim Paul Breslin, pictured left, told the programme: "There's so much beauty here but for me there's so much evil and so much hurt. I was ten years of age when he (Greene) took me down here you know…. I should be out playing with other 10-year-olds but I wasn't. I was being taken down to the beach and raped.
"Aged 10, 11, 12 I had no life at all. I had no childhood no fun. Nothing just pain, pain, pain. Every single week just pain.
"I'd say to myself why is God doing this to me? I thought God was supposed to care and that priests were supposed to care not hurt a person. I thought I'm doing something wrong here. You know, am I not doing a good enough job as an altar boy that he's punishing me for this."
He added: "When I was gradually growing up, when I was 14,15, up to 16, you're learning about everything, about your body and everything then I'd think oh my God, these things fucking happened to me, this is what he'd f***ing done to me and the pain got even worse then. It was in there.
"And I couldn't tell anybody, I couldn't go to anybody. They wouldn't believe you anyway to start off with."