A Letterkenny man who claimed he was in line for a €1 million cash windfall has received a suspended jail sentence for lodging bogus cheques.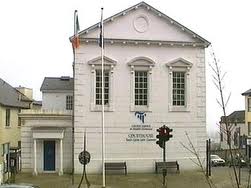 James McErlane lodged almost €90,000 using two separate cheques with AIB bank from two other banks but did not have the cash to cover them.
Instead he was able to draw down €6,725 on a laser card and used the cash to pay for meals, groceries and a luxury holiday to Egypt before being caught.
McErlane of 48 Whitethorn Close, Letterkenny, appeared at Letterkenny Circuit Court on Tuesday and told Judge Donagh McDonagh he was due €1 million in investments in October.
Judge McDonagh ordered McErlane to provide proof of the investment including the broker he had the investment with.
However no such broker or documentary evidence was given in court today.
Judge Donagh McDonagh found McErlane guilty of fraud and sentenced him to a two year suspended jail term.
He also ordered him to pay back the AIB a total of more than €10,000 which now represents the original sum defrauded by McErlane as well as accumulated interest.
Judge McDonagh orfered him to pay €100 per month and warned him not to miss any payments.
He also ordered him to complete 140 hours community service.
McErlane paid €3,000 in court.