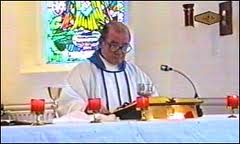 A VICTIM of paedophile priest Father Eugene Greene today spoke out about a huge cloud of suspicion over west Donegal – the public cash collection for the jailed cleric.
As much as €50,000 was collected by parishoners in Annagry and the surrounding areas when Greene was released in 2008.
Today one victim told donegaldaily.com: "It said a lot about some people that they went around collecting money for a man who actually pleaded guilty to raping me and many others.
"I remember when I heard about this for the first time; I thought it was a sick joke. But then I was told that it had happened and I felt physically sick.
"I don't understand the mentality of these people….I don't understand how anyone could hand over money so that an evil b****** like this could live in comfort after getting out of jail."
Greene has been in the headlines this week as some of his victims spoke out about the attacks on them.
The BBC documentary has also put huge pressure on Cardinal Sean Brady over his handling of sex abuse claims against pervert priest Father Brendan Smyth.
It's understood Cardinal Brady could offer his resignation this weekend.
The Greene cash collection however still hurts many of his victims.
"It was like being raped all over again," said the victim who spoke to donegaldaily.com.
"The same people who collected money for Greene shunned his victims. We got not a cent in money, though we never wanted that, and we got not a single breath of comfort or apology. It is an eternal shame on these people."
Tags: