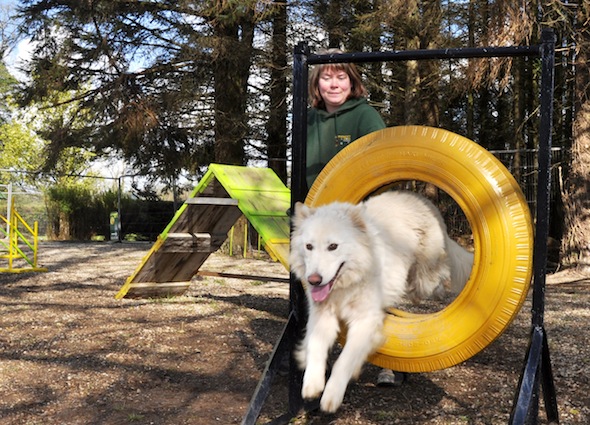 Dog lovers across Ireland will get a unique opportunity to learn from the best when celebrity dog trainer and star of the international hit TV series It's Me or the Dog Victoria Stilwell arrives in Co Donegal this summer.
Her only Irish date in 2012, Victoria Stilwell will deliver a one-day seminar on positive training methods in Letterkenny on Saturday July 7th.
Famed for her TV Show which is aired in over 50 countries, Victoria Stilwell will share her canine secrets with dog owners in this exclusive one-day event. Her philosophy of positive reinforcement training to help dog owners engage with their dogs on a deeper level has attracted her to celebrities across the globe.
The event is being organised by Donegal-based dog training, agility and flyball company Lupanast Dog Training. Managing Director Clare Boyle, pictured above, explains what dog owners can expect from this day-long seminar.
"We are delighted to have secured Victoria for this exclusive event. As a company we respect her techniques and in fact use them in our own work.  The event will give dog owners a unique insight into Victoria's thought processes, deliver case studies of best practice and also get a chance to ask her questions. As this is her only Irish date for 2012 we expect huge interest in the event which has a limited capacity."
Andrea Hayes, presenter of TV3's Animal A&E will act as MC for the event. Speaking this week she says, "given Victoria's passion for, and commitment to, the cause of animal rescue and rehabilitation including her involvement in organisations around the world to increase awareness of puppy mills, dog-fighting, animal abuse, pet over-population, dog bite prevent and other animal-related causes, I was eager to be part of this event. It will indirectly promote animal welfare in Ireland and this has to be welcomed."
A best-selling author, Victoria Stilwell appears frequently in the media and is widely recognised as a leader in the field of animal behaviour. She is the Editor-in-Chief of Positively.com, serves as the featured trainer for eHow Pets, and is the CEO of Victoria Stilwell Positively Dog Training: the world's premier global network of positive reinforcement dog trainers.
Tickets for the Victoria Stilwell seminar are now on sale from www.lupanast.com.
Tags: