Donegal North East Deputy Pádraig Mac Lochlainn has accused the government of "learning no lessons from the appalling treatment of workers at Keith Prowse in Buncrana and at other Donegal companies".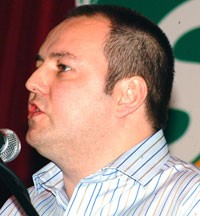 The Sinn Fein TD was speaking after the government voted down Sinn Féin's Protection of Employees (Amendment) Bill 2012.
Speaking in the Dáil in favour of the bill, both Deputy Mac Lochlainn and his colleague, Donegal South West Sinn Féin TD, Pearse Doherty identified a number of specific examples of industrial disputes – including some in County Donegal– where workers' rights have been set aside by employers.
Deputy Mac Lochlainn said "During Private Members Business, Sinn Féin introduced the Protection of Employees (Amendment) Bill 2012 to legislate for the growing number of instances where workers are being denied their rights and entitlements by employers.
"The focus of the Sinn Féin legislation was to enhance the period of notice for workers who are to be made redundant and to expedite the hearing and processing of claims to entitlements."
He cited the plight of the former workers at Keith Prowse in Buncrana being forced to wait an eternity for their basic redundancy entitlements.
He said it was absolutley shameful way for a dedicated workforce to be treated and even worse that they had worked for less pay and shorter hours to help the company directors prior to the closure.
"Our bill sought to protect other workers from having to endure the same and the government's refusal to support us proves they have learned nothing from these cases ermerging across the state," he said.