An Inishowen man has pleaded guilty to dangerous driving causing death.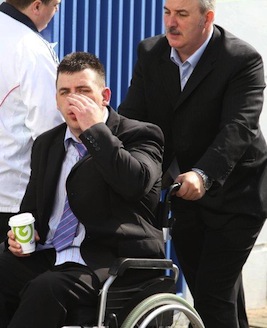 Daniel Coyle, 28, appeared at Letterkenny Circuit Court.
Coyle, of Clar, Redcastle is in a wheelchair as a result of the accident which happened on April 19th, 2009.
The accident at Clar, Redcastle, resulted in the death of another man Hugh Donegan.
Cole, who suffered brain damage as a result of the crash, also admitted to driving without insurance and driving without a driving license.
State prosecutor Ms Patricia McLaughlin requested a victim impact statement from the late Mr Donegan's family.
Judge Donagh McDonagh adjourned the case until July.
Tags: