Since my last 'Donegal Great Outdoors' piece it's been an interesting two weeks that has ranged from photographing the Aurora Borealis from the summit of Mamore Hill in Inishowen, to mountain biking and running in the hills above Muff, to delivering navigation assessments to the Slaibh Laig walking club in the Blue Stack Mountains.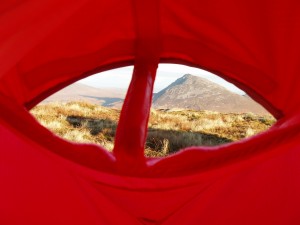 This week were I've been travelling through the Derryveagh Mountains delivering training Mountain Leader candidates in navigation, rope work and camping skills for leading groups in the high mountains of Ireland and the UK.
During all of these recent journeys through the Donegal hills I have met no other mountain users on any of these days out and about, except, on Mt Errigal, that's hardly surprising I hear you say! Sure hasn't everyone in Donegal climb Mount Errigal, well no they haven't is the answer!!
So let's take a look at this iconic Donegal Mountain and see just what makes it so special…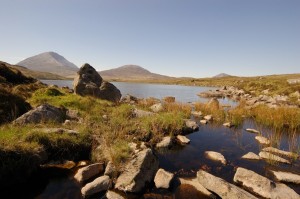 Standing at 751meters (2,464feet) above sea level, the distinctive cloud piercing summit and shoulders of Mount Errigal casts an alternative view across the Donegal skyline. The mountain has a diverse and varied shape depending on what direction you view it from. In 2009 loveable landmark mountain was voted 'Ireland's Most Iconic Mountain' by Walking & Hiking in Ireland, an endorsement of its distinctive beauty.
Whereas most of the surrounding rocky peaks of the Derryveagh Mountains are granite, Errigal's form is somewhat different, it's a quartzite peak. Quartzite is a sedimentary rock which has metamorphosed (changed from sandstone) under high pressure and heat into a dense hard quartzite rock type.
Errigal (possibly meaning 'oratory') is the 76th highest mountain in Ireland and the highest in a chain known as 'The Seven Sisters', which includes Muckish, Crocknalaragagh, Aghla Beg, Ardloughnabrackbaddy, Aghla More, Mackoght (Wee Errigal). This chain forms one of the great Irish mountain challenge walks, the 'Glover Highlander', a strenuous mountain walk which is around 23Km long and involves around 2000meters of height gain!
Generally speaking most people will climb the mountain by starting from the car park off the R251 road. Initially the route crosses heavily eroded and boggy land that leads towards a visible track through the scree.
There is a steady climb upwards towards the summit, with excellent views in all directions towards Tory Island, the Poison Glen, Gola, Arranmore, the Blue Stacks to name but a few, for those who don't quite have a head for heights, be warned steep and intimidating ground abounds. This culminates with a final exposed walk along the airy ridge of the 'one man's pass' which allows both summits to be gained as a reward for the steep uphill journey.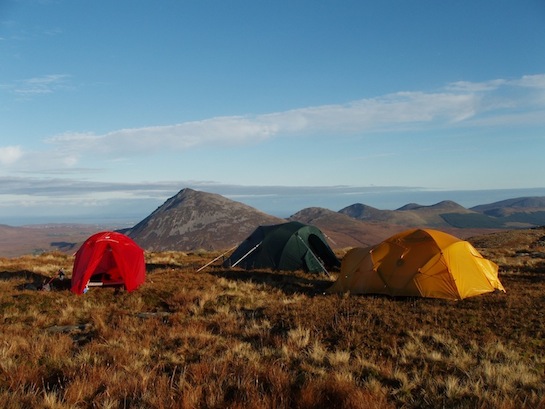 If you plan to pay a visit to the mountain this bank holiday weekend, you will find plenty of route information by following the web link to the excellent Irish hillwalking resource website 'Mountain Views' , this is listed below.
Whilst most people see Mount Errigal as 'a handy one to climb', you really do need to wear proper hillwalking boots and come to the mountain well equipped with warm clothes, food and a drink for the ascent. Good hillwalking boots are a must, as statically speaking the largest number of mountain rescue call outs are for what's known as a 'lower leg injury' i.e. sprained or broken ankles!
The amount of equipment you carry will often be dictated by the weather, so check before you head out into the hills this weekend, as the sunny weather that we've enjoyed during this week is set to change and this weekend is going to see a lot colder and wetter weather over the Donegal Mountains.
So check some of the weather links that I've listed below and remember 'hope for the best and prepare for the worst!'. Enjoy!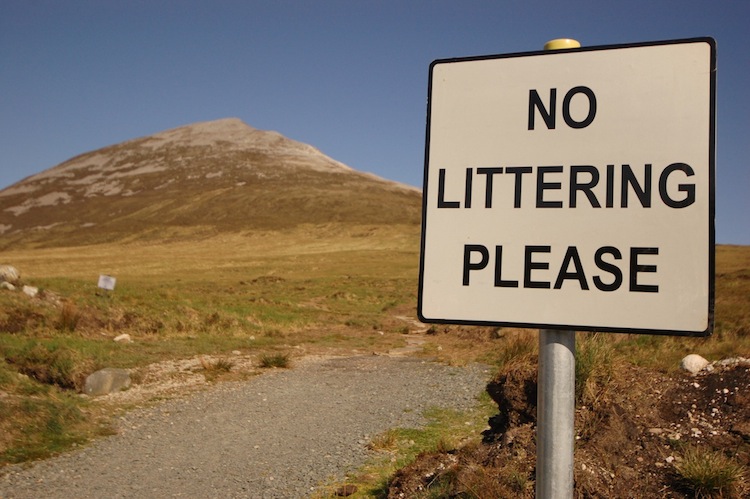 Websites:
Route Information: http://mountainviews.ie/summit/76/
Weather Forecast: www.met.ie
www.yr.no
www.bbc.co.uk/weather
Mountain Rescue: www.mountainrescue.ie
www.donegalmrt.ie
Tags: