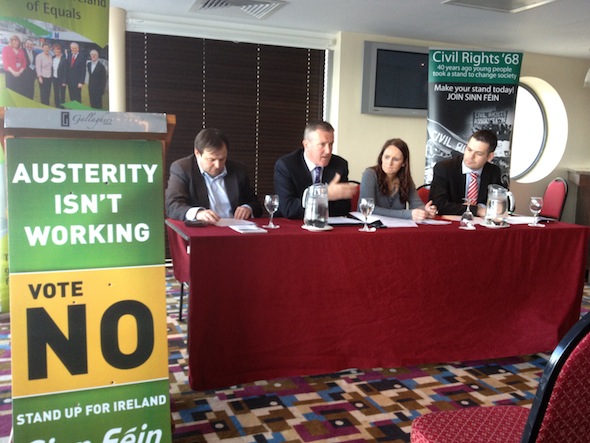 At a packed meeting in Gallagher's Hotel, Lettekenny, Sinn Féin MP Conor Murphy outlined how water charges on domestic properties could be avoided.
Mr Murphy said a precedent had been set in the Six Counties and that Phil Hogan could replicate what was done there.
Mr Murphy said: "In 2007, the 6 County Executive inherited a water and sewerage system that had not received any investment from decades of British direct rule. In some instances it was at the point of collapse.
"The British Government had also paved the way for the introduction for domestic water metering while claiming, like the current Irish Government, that it was an EU directive.
"Upon my appointment as Minister for Regional Development, with responsibility for water, I questioned this course of action and ruled out water charges. With agreement from the Executive, the idea of water charges cannot even be discussed until 2015.
"We instead chose to invest in water and sewerage and spent £1billion upgrading the system to the point where the water quality has never been better. This course of action created thousands of jobs, with the Belfast sewerage works being carried out by a group from Donegal."
Conor Murphy also ruled out the notion that water metering reduces water usage.
"The idea that water metering will conserve water is a fallacy. While it may do so initially, the dip in usage will be short-lived. The evidence can be seen by comparing the average domestic water use in London and Dublin. London, which pays for domestic water, uses more water per household than those in Dublin," he claimed.
"If your intention is to reduce water usage then domestic water metering is the wrong way to go. If you intend to tax working families then it is the correct plan.
"This government has many other options available to it and Sinn Fein has mapped out those options to them."