Nora Brennan was a Belfast woman whose heart belonged in Donegal.
So much so that she built a house in Crolly and when she died in 2007, she had chosen to be buried in Bunbeg.
Now friends and family of the much-loved Nora are organising Nora's Crolly Dolly Walk on Sunday, June 23rd.
"We are fundraising for Marie Curie Cancer Charity who nursed Nora for years when she was very ill, and who have really earned and deserve our support.
"This is the first year of the event and we want to ensure that it is a huge success. We are very committed to make this an annual event and encourage it to grow and thrive year after year," said Nora's niece Elaine Walsh.
She added that Donegal is like a second home to many of her family and friends from Northern Ireland and Scotland who spend a lot of time there on holiday.
"For the weekend of 22-24 June we aim to bring 100- 150 people up to Donegal for the event which will be great for local businesses," she added.
For further information logo onto
http://www.justgiving.com/norascrollydollywalk2012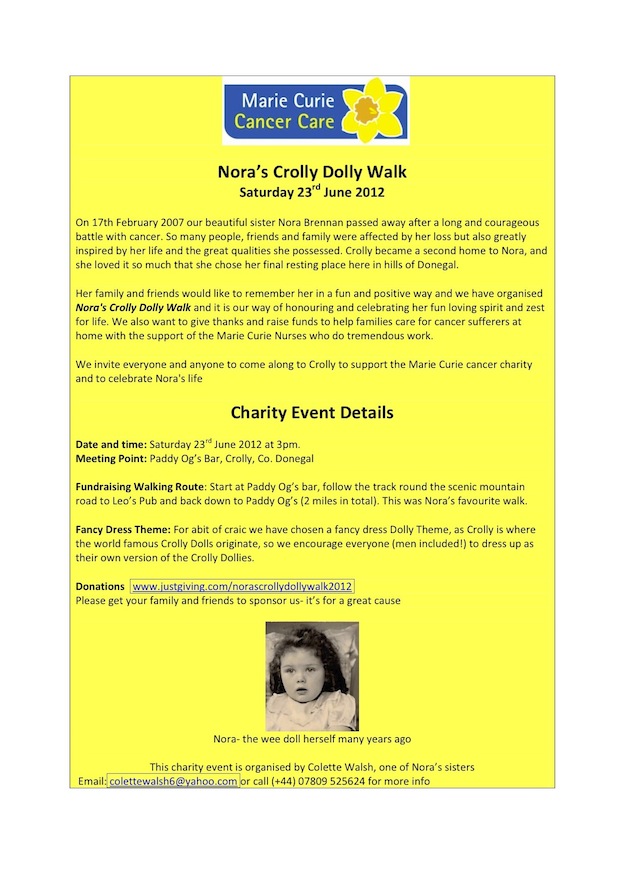 Tags: