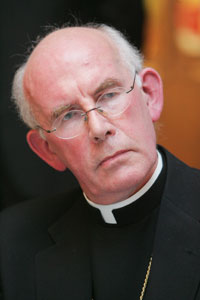 CARDINAL Sean Brady has apologised to victims of paedophile priest Father Brendan Smyth during a visit today to Co Donegal.
Speaking to RTE at Lough Derg following a penitential pilgrimage in advance of next month's Eucharistic Congress, Dr Brady also said he had no intention of stepping aside, despite continuing calls for his resignation.
He said there had also been "many many calls from people who want me to stay on."
But he said he hoped a coadjutor – with succession rights – would be appointed to his archdiocese as soon as possible.
Dr Brady said he now realised that the parents of children who were being abused by Brendan Smyth should have been informed about the allegations of abuse being made against him.
"Definitely the parents should have been informed. That's quite clear," he told reporter Tommie Gorman.
Dr Brady said he apologised "without hesitation" to Brendan Boland, and to all survivors of abuse.
He said he would also like to personally apologise to Mr Boland, and hoped to do so in the future.
He said he intended to remain on as primate "until I'm 75, or unless the Holy See indicated it didn't want me to stay".
The cardinal said there was absolutely no indication from the Holy See that it wanted him to resign.
Tags: