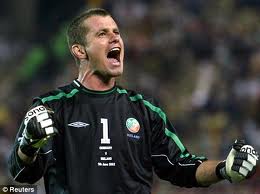 SHAY Given says he might fancy a move back to Celtic – and there's a chance it might happen.
The Aston Villa keeper is a lifelong fan of the Bhoys and played with them as a teenager.
The 36-year-old Lifford man said: "Never say never. I'm very happy at Villa but in football you should never close any doors. And there's an outside chance it could happen."
Celtic lost 1-0 at Dundee United on Sunday with the Hoops once again denied a clear penalty.
Celtic were denied a penalty when Keith Watson handled, leaving Lennon, who is serving a touchline ban for confronting a referee over a penalty decision in last month's loss to Hearts, to call for consistency from officials.
He said afterwards: "Maybe I should ring John Fleming [the Scottish FA head of referee development] and ask him what is the difference.
"If they want to give them against us, then that one today has to be a penalty as well. You've got to be consistent.
"I am going to get accused of being a sore loser or blaming referees but it's not the point, what I want is an answer and I don't feel I get them."
Meanwhile the clubs will have to decide to allow Rangers into the SPL next season – with fans of many of those clubs threatening to boycott their own grounds if the go-ahead is given.
Tags: