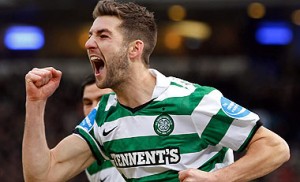 FROM NEIL DOHERTY IN GLASGOW: NEIL Lennon has been named Manager of the Year at the Clydesdale Bank Scottish Premier League end-of-season awards this evening.
And the Hoops picked up other top awards – with Charlie Mulgrew, James Forrest and Paul George receiving the Player of the Year, Young Player of the Year and Under-19s' Player of the Year prizes, respectively.
The manager guided Celtic to the League Championship on the back of a remarkable 20-game winning streak in domestic football. At present, the Hoops are 20 points clear at the SPL summit with one game remaining.
Both Mulgrew and Forrest have now collected three accolades this season, underlining their colossal contribution to the team's success.
Mulgrew, who won his first Scotland cap in February, has already been recognised as Celtic's Player of the Year and Scotland's Player of the Year.
The brilliant Forrest received the corresponding honours in the Young Player of the Year category – with a queue of English PL clubs watching him this season.
Irish youth internationalist, George, enjoyed a terrific campaign for Celtic's Under-19s until he suffered a leg break against Rangers last month which ended his season. The well-deserved prize will be a welcome filip as he begins his recovery and rehab.
Meanwhile American tycoon Bill Miller has tonight pulled out of his bid to buy Rangers – sending the club into further turmoil.
He had been named preferred bidder last week.
But he has now said that "preliminary information" given by Duff & Phelps was "more optimistic than reality" and he is no longer pursuing his offer.
"As soon as I was announced as preferred bidder for Rangers, my team began to press ahead with our due diligence," said Miller in a statement.
"Until then, information had been limited to what was made available in the internet data room and questions addressed to the administrators and their staff.
"In addition, I had preliminary discussions with the Scottish footballing authorities and limited discussions with Ally McCoist.
"Upon being named preferred bidder, discussions with Rangers staff started and discussions with all interested parties intensified.
"By late Monday night, it became clear to me that preliminary information, discussions and analysis were, unfortunately, more optimistic than reality."
The American had yet to visit Scotland following his bid for the club but turned in his statement to the reaction from some Rangers fans, who displayed anti-Miller banners at last week's game as McCoist's side beat Dundee United.
"Having no intention of negatively affecting the potential outcome of the club's future, and after hearing the message from Rangers supporters and fans loud and clear ('Yank go home!'), I notified the administrators today that I have withdrawn my bid for Rangers and will not be moving forward," he said.
Tags: