The Irish Cancer Society has confirmed that, even before the event is held, Relay for Life Donegal has topped all the polls.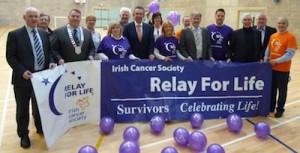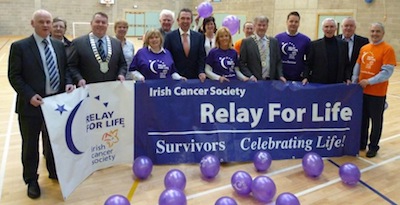 The county has more teams than any previous Irish Relay event, more Candles of Hope pre sold and record amounts of money raised.
So how will Relay for Life Donegal monies be spent?
 Daffodil Centre – The new Daffodil Centre in Letterkenny General Hospital is scheduled to be opened in the second half of 2012 and will be staffed by a specialist cancer nurse, aided by a team of trained volunteers to provide free, expert support and advice to cancer patients, their families and the general public who have cancer concerns. The Daffodil Centre will also direct people towards other support services provided by the Irish Cancer Society like financial aid, Care to Drive or local support groups.
Care to Drive – A free transport service to appointments and treatments in Letterkenny General Hospital for cancer patients. Care to Drive recruits and trains volunteer drivers to bring patients to their appointments and drop them home again afterwards, free of charge. Care to Drive reduces the stress of having to drive yourself to treatment or ask family and friends to help and also reduces the financial burden of cancer on the patients.
National Cancer Helpline – Provides free cancer advice and support service to people concerned about cancer. All helpline staff are specialist cancer nurses. Often these helpline nurses can answer questions that the patient would otherwise need to wait for until their next hospital appointment. The Helpline can direct people towards other support services provided such as financial aid, Care to Drive, Daffodil Centre or local support groups.
Cancer Research – In 2012 the Irish Cancer Society is investing €3.1m in Cancer Research programs across the country. For example, in the last 2 years 4 new research proposals in Galway (two Research Scholarships and two prostate cancer research projects) have been funded with a total value of over €500,000. Irish Cancer Society research made over 650 important findings in 30 years. Funding top class research in Ireland means Irish patients have access to the latest treatments and breakthroughs wherever those discoveries are made.
Nursing Services – Irish Cancer Society's night nursing team provides palliative and respite care for cancer patients and their families in their own home. In 2011, 85 nights of nursing care was provided by Irish Cancer Society night nurses to cancer patients and their families in their own homes in Donegal.
Financial Aid – The Irish Cancer Society's financial aid program provides a grant to support cancer patients who are experiencing financial hardship due to their diagnosis and treatment. In 2011 the Financial Aid program gave out over €1 million in grants.
Cancer Awareness and Health Promotion Materials – 688,266 cancer information booklets and fact sheets were distributed to people concerned about cancer across the country in 2011.
Plus much, much more…
For more information on these programs and all the other services and supports the Irish Cancer Society provide, including support groups, advocacy and policy change, which are supported by Relay for Life Donegal, please visit www.cancer.ie or low call 1800 700 800
relayforlifedonegal@gmail.com
26th and 27th May 2012 in LYIT
Celebrate, Remember, Fight Back.
Tags: