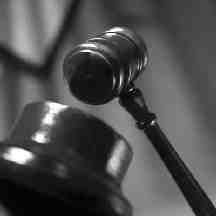 A BALLYBOFEY man has been awarded €100,000 damages for serious facial injuries he suffered after he fell through a glass door as he tried to break up a nightclub fight in the town.
Painter Paul Brady from The Beeches in the town was left with severe disfiguring scars to his face after he fell through a glass-plated door.
He had tried to break up a fight which had started earlier at Stampies nightclub on October 27, 2002.
He had alleged negligence against Bridget Heeney and her sons Terence Michael and Aidan Heeney as owners and operators of the nightclub. He claimed that, at the time of the incident, they were owners of a premises close to the nightclub's exit, and he had fallen through a glass door of that premises.
Mr Brady told the court that, on the night of the incident, but unknown to him, one of his friends became involved in an altercation on the dance floor with another man. The other man was removed from the nightclub.
Mr Brady said he and his friends left the club at about 2.30am. In a car park at the rear, one of his friends was attacked by the man who had been thrown out earlier, he said.
In an attempt to break up the fight, Mr Brady said he got the other man in a headlock and told him to calm down.
He said momentum then carried him a short distance resulting in him tripping over a raised pavement and falling through a glass door of a premises close to the nightclub exit.
In his action, he claimed the club failed to supervise the area to the rear of the premises and also alleged failure to ensure an adequate number of security staff in the club and car park.
It was alleged the danger was foreseeable, and the defendants had failed to install shatter-proof glass in the door he fell through.
The claims were denied, and it was argued Mr Brady failed to have regard for his own safety, exposed himself to injury, and engaged in an activity that he knew was dangerous and unsafe.
In his judgment yesterday however, Mr Justice Kevin Cross found the defendants were negligent arising from a failure that night in their "normally excellent security system".
Mr Brady had suffered serious injuries which were unsightly and permanent, but he did not exaggerate his suffering in his evidence to the court, the judge said.
He awarded damages of €100,600 and also granted a stay on his decision pending an appeal.
Tags: