Hoax phonecalls to Donegal's fire service has increased by more than 60% in the past five years.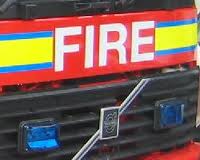 And Donegal's acting Chief Fire Officer has now warned that other vital services are suffering as a result of malicious calls.
Acting CFO Joe McTaggart said that between 2007 and 2011 there had been an increase of 64% in hoax calls.
Mr McTaggart told the Shaun Doherty Show on Highland Radio that such calls could cost lives.
"People have to remember that when the fire service is responding to a hoax or malicious call, the service cannot respond to other possible genuine calls," he said.
He said that not all hoax calls are made by young people but also by adults.
He revealed that in 2011 there was 23 hoax calls made tot eh fire service which cost the tax-payer €35,000.
"That is money which could have been spent on other services in Co Donegal," he said.
He added that anyone caught making phonecalls was liable to be prosecuted while Donegal County Council were also entitled by law to recoup the cost of the hoax call-out.
Tags: