A well-known taxi-driver has revealed how she had to swerve to avoid a head-on collision after being struck by a hit-and-run driver.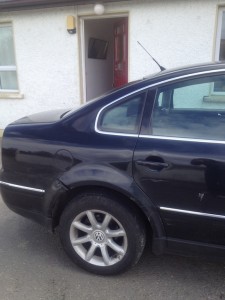 Julie O'Leary had to veer across the road outside Kilmacrennan Village in the early hours of this morning.
The car struck Julie's car knocking off the mirror and scraping the entire right-hand side of her car.
But amazingly the car sped off without stopping following the incident just after 1am.
Julie told Donegal Daily that she was lucky the accident was not a lot worse and would have been only for she reacted so quickly.
'I was coming home from working in Letterkenny and just outside Kilmacrennan Village a car came straight for me.
"I had to swerve sharply to avoid a head-on collision. The car struck my car, knocked the mirror off and scraped the entire side of my car.
"I got a bit of a shock because the car seemed to come out of nowhere.
"But to my absolute shock the car sped away," she said.
Julie called Gardai but they were en-route to another incident and could not attend the scene.
Julie has described the car as turquoise in colour and is quite a small vehicle.
"Surely someone knows of a small, turquoise car which has been damaged. Some of its paint is still on my car," she said.
Tags: