The co-ordinator of the Golden Eagle Project in Ireland says he fears a pair of nesting eagles which have disappeared from Co Donegal may have been poisoned.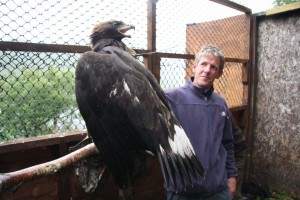 Lorcan O'Toole revealed the birds had been nesting in the western Bluestack Mountains since 2005 but have not been seen since 2011.
"It is quite possible that they were poisoned because we have had no sightings of them since last year.
"They did not nest there last year and it would be unusual for them not to return to the same place to nest," he said.
Mr O'Toole made his comments following the poisoning of two white tailed sea eagles in counties Mayo and Donegal.
He added that a small minority of people were now putting the project to reintroduce various birds of prey back into Ireland in jeopardy.
He revealed how out of ten white tailed sea eagles which had been fitted with satellite tags, five had now been found poisoned.
He said it was fair to assume that many more such birds which had not been fitted with tracking devices may have perished.
"We were able to pin-point the exact location of these sea eagles because the satellite tags are so sophisticated.
"But less sophisticated equipment such as radio tags may not lead us to birds which may have been killed.
"I have no doubt that other birds which we do not know about have been poisoned," he said.
Mr O'Toole stressed that his group had a very good relationship with the vast majority of the farming community across Ireland.
"It is only a very small minority of people who are putting this project at risk by poisoning these birds," he said.
Ends
Tags: