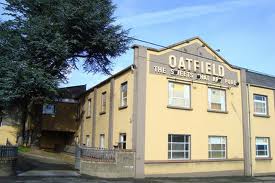 DONEGAL Creameries bid to sell its Oatfield sweet factory for €5M has been halted for now at least – by a member of the McKinney family which founded it.
Ruth McKinney has won the first round of a legal battle with Zopitar Limited, a subsidiary of Donegal Creameries.
She has been using the yard at the factory as a right of way for more than 30 years.
And she is fighting a legal battle to continue to do so.
Ms McKinney, daughter of Oatfield co-found Ira McKinney, was told in a letter from Zopitar that they would "be holding her responsible for any loss or damage which it may suffer as a result."
But the pensioner took legal advice from Quinn Dillon & Co and they won the first round of their legal battle in the High Court in Dublin this week.
Lawyers for the Donegal Creameries/Zopitar had a motion forcing Ms McKinney to supply a defence struck out by Mr Justice Murphy.
The right of way could jeopardise the Creamery's bid to sell the site to Lidl.