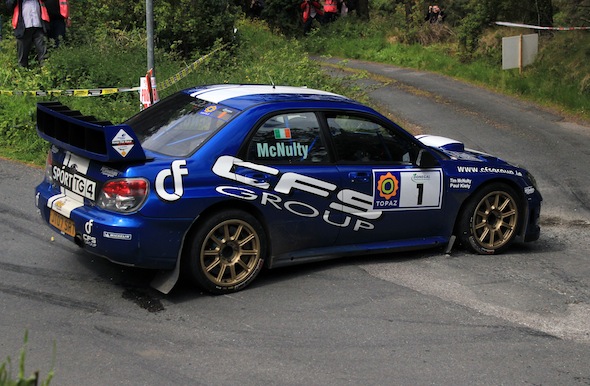 Excitement building for Topaz Donegal International Rally 2012 by Declan Boyle
The history of the Donegal International Rally will continue this June from the 15-17th, 3 days of fully packed action of pure rallying.
Since the event was launched in 1972, it has grown from strength to strength becoming Donegal's largest sporting event.
The rally is estimated to bring up to €25 million to the local economy each year hosting up to 50,000 plus spectators.
CoC for the rally, Eamon McGee has made slight changes to the course for this year's International.
Day One will see the rally around the Newtowncunningham/Manorcunningham area with a Spectator Stage in Buncrana again this year.
Day Two has a slight few changes but will see the same classic stages such as Knockalla & Gartan Lake.
Day Three will consist of more classics such as Glen, Port Lake and the incredible Atlantic Drive and will head back to the events HQ at the Mount Errigal Hotel for the finish ramp and the prize-giving which will take place towards nightfall on Sunday evening.
As the Topaz Donegal International Rally is part of the Irish Tarmac Rally Championship you can expect to see names such as Former winner Tim McNulty, Eugene Donnelly, Daragh O'Riordan, Garry Jennings, Sam Moffett and ITRC leader Darren Gass.
This year's rally is a counting round of the Irish Tarmac Historic Championship, Round 4 of the Citroen C2 Championship and not forgetting the National Championship. The event is also a counting round of the Donegal MotorClub Basset Heating & Plumbing championship
Irish Tarmac Championship Rally Standings 
DARREN GASS (SUBARU)                                      61
GARRY JENNINGS (MITSUBISHI EVO)                     41
EUGENE DONNELLY (MINI/COROLLA)                      36
DARAGH O'RIORDAN (SUBARU)                             31
DEREK McGARRITY (SUBARU)                                21.5
SAM MOFFETT (MITSUBSHI EVO)                           16.5
DONAGH KELLY (MITSUBISHI EVO)                                16
TIM McNULTY (SUBARU)                                       15
DAVID CARNEY (CITROEN C2)                               10
KEVIN O'CONNNOR (CITROEN C2)                          9
For more info on the rally visit www.donegalrally.ie orwww.donegalmotorclub.com
Author – Declan Boyle
Image – Declan Boyle – www.dbpics.net
Tags: