Labour party county councillor Frank McBrearty has revealed the Finn Valley School Transport Action Group DID meet with Minister for Education Ruairi Quinn during his visit to Donegal.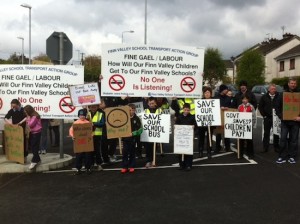 It had been suggested the Minister refused to meet with protesters who were voicing their concern over new rules regarding school transport.
However Cllr McBrearty told Donegal Daily he arranged a meeting between Donal Foy of the FVTAG and the Minister during the official opening of the new Finn Valley College.
"They had a meeting and views were expressed. It was a private meeting but the Minister said he would convey the concerns of the group.
"The meeting was facilitated by Senator Jimmy Harte and I am grateful for that.
"I am convinced the Minister will do all in his powers to help the people of the Finn Valley area.
"He will meet with Junior Minister Ciaran Cannon and we will take it form there," said Cllr McBrearty.
Tags: