After a winter of questions, Donegal answered the critics today with a fine performance to suggest last year's championship run was no flash in the pan.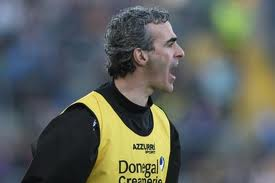 It may only be the preliminary round of the Ulster Championship but Jim McGuinness' side put in a fine display at Breffni Park to brush aside the challenge of Cavan.
It took Donegal a while to get into the game and Cavan led 0-4 to 0-3 as they played with an early confidence.
However the evergreen Colm McFadden managed to pull a couple of scores back along with a free from Neil McGee to put Donegal back in control.
Donegal took a real grip on the game towards the close of the first half and went in at the break leading 0-4 to 1-7.
The goal came courtesy of a penalty from McFadden after Paddy McBrearty was taken down inside the area.
Two quick points from Mark McHugh and Colm McFadden looked like it was going to be a hammering for Cavan as Donegal led 1-9 to just 0-4.
Cavan replied with a couple of points but Donegal continued to score with ease through McFadden, Frank McGlynn and McHugh again to make it 0-6 to 1-10.
Big Glenswilly man Neil Gallagher added another point and Donegal looked like they were cruising into the next round.
However Cavan were given some hope when they were awarded a penalty which Niall McDermott slotted past Paul Durkin to make it 1-7 to 1-13.
The home side will rue no fewer than nine wides – and two strikes of the woodwork.
The sides traded a flurry of points towards the final whistle but with Donegal always in control, it finished Cavan 1-10 to Donegal's 1-16 in what was a fine game of football before almost 13,000 fans.
Man of the Match was Colm McFadden who slotted 1-06 of the Donegal scores.
Manager Jim McGuinness praised his players afterwards, particularly for the "freshness" they showed.
"But we weren't ruthless enough in the second half," he said.
"I suppose its's job done and this buys us another month for the game against Derry.
"A lot of the boys are students and this gives us a chance to coach them as a group. There are a lot of them doing exams and thankfully those will be finished in the next few days.
"There is an awful lot of work we have to do for the Derry game."
The BBC Championship Man of the Match was St Eunan's midfield star Rory Kavanagh who was playing his 100th game and scored three points on the day.
"It was great to get off to a winning start today and now we'll work on getting ready for the next game," he said.
The Derry game will be on Saturday June 16th in Ballybofey.
Donegal's Minors also had a good day against Cavan, who were Ulster title holders.
The Donegal Minors won 1-11 to 0-10.
Cavan : N McDermott 1-1 (1-0 pen, 0-1f), E Keating 0-5, D Givney 0-2, G McKiernan, J Brady 0-1 each.
Donegal: C McFadden 1-6 (1-0 pen, 0-5f), R Kavanagh 0-3, M McHugh, L McLoone 0-2 each, N McGee, F McGlynn, N Gallagher 0-1 each.
CAVAN: J Reilly, K Clarke, P O'Reilly, K Meehan, J McLoughlin, D Reilly, R Maloney-Derham, D Givney, G McKiernan, F Flanagan, R Flanagan, M McKeever, J Brady, E Keating, B Fitzpatrick.
Subs: T Corr for Maloney-Derham, N McDermott for Fitzpatrick, N Smith for F Flanagan, K Tierney for McKeever, R Galligan for Brady
DONEGAL: P Durcan, P McGrath, N McGee, F McGlynn, L McLoone, K Lacey, A Thompson, R Kavanagh, N Gallagher, D Walsh, M McHugh, R Bradley, P McBrearty, C McFadden, D Walsh.
Subs: M O'Reilly for Bradley, M McElhinney for Walsh, D Molloy for Gallagher
Referee: C Reilly (Meath).
Tags: