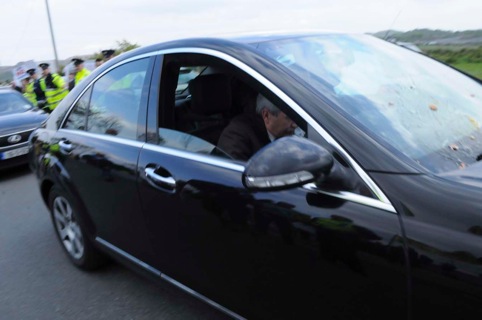 THIS was the moment protestors threw eggs at the windscreen of the Taoiseach's car as he arrived outside a school in Milford today.
A number of groups had mounted pickets and placards outside Loreto Community College where the Fine Gael leader was attending to celebrate a student winning a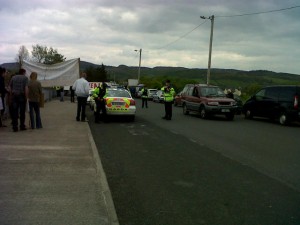 Among the groups holding protests was the Donegal Action Against Austerity and the Can't Pay Won't Pay groups.
There was a heavy Garda presence at the scene.
There was also anger amongst parents from schools locally after pupils were held in Loreto Community School because of the Taoiseach's late arrival.
As a result pupils on shared buses from Mulroy College did not arrive home leaving many parents disgruntled.
However the protest outside Loreto didn't take away from the celebrations inside.
The Taoiseach addressed more than 700 students and told them they were "leading the way" in bringing the digital age to schools.
The school won the prize after a project by fifth year student Shaun Sweeney on the smart class of the future.
All pupils joining the school this year will now receive 'Fizz Books' which is a mini laptop and tablet.
As well as the new laptops, the school will be visited by a PHD student from Dublin City University who will map out the school's progress using the new computers.
The aim of the project is to partly use the computers, which will be equipped with all edco books, to eventually eliminate the need for old fashioned paper books.
The €150,000 prize was presented by SmartClass, a project run by computer giants Intel, the Educational Company of Ireland and Steljes.
The Taoiseach was at the school to formally hand over the first computer.
* Despite earlier reports, members of Donegal Action Against Cancer Care were not present at today's protest outside Milford Community College. We are happy to clarify this.