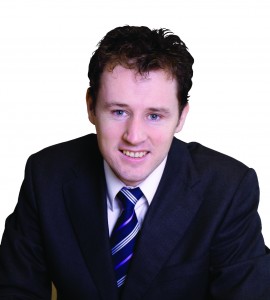 Fianna Fáil Spokesperson on Children Charlie McConalogue has congratulated to Loreto Community College Milford on their success in the inaugural Smart Class competition.
The competition was initiated by Intel Ireland, Steljes and the Educational Company of Ireland last year.  Loreto Milford scooped the top prize after Leaving Cert student Shaun Sweeney designed and presented an e-book that astonished the judges.
The €150,000 prize will see every incoming first year this September awarded laptops with the entire Junior Certificate course built into them. In addition to this, the school will be upgraded with high speed broadband, extensive teacher training and continued assessment of how the students are adapting to the new system.
Donegal North East Deputy Charlie McConalogue who attended the events, paid tribute to the winning student.
"Shaun Sweeney's hard work, dedication and talent is truly admirable. He has secured a world-class learning environment for the incoming first years and he should be extremely proud of himself.
"I am delighted for Loreto College and all of its staff and students. They will be the first of a new generation. There will be huge interest in how the students adapt to learning directly from laptops and it could even signal the beginning of sweeping changes throughout our education system.  It is a great coup for Donegal that one of our schools will be at the centre of these changes," said Deputy McConalogue.
The Donegal North East TD also spoke of his disappointment that the protests at the school diverted attention from its great achievement.
"The school and the students deserved their day in the sun.  It is important that the school's fantastic achievement is not overshadowed by the coverage of the protest that took place outside the school," he said.
Tags: