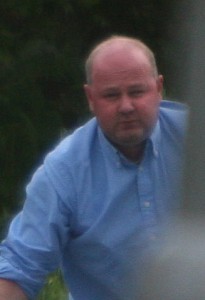 A FORM teacher for Anne Gillespie spoke out today about double killer John Gallagher, detailing the terrifying final days of the teenager before her death.
Speaking to Joe Duffy on RTE Radio One's Liveline, Greta Harrison revealed how Gallagher had tried to kill Anne, 18, at least three times before he shot her and her mother Annie at Sligo General Hospital in 1988.
The teacher revealed how Anne had approached her just a few days before the brutal killings and told her how Gallagher:
* Tried to drive his car into a lorry with Anne sitting beside him in the passenger seat
* Strangled her until she was unconscious
* Raped her and was dragging her away to kill her when a neighbour came to her rescue.
"She thought he was very possessive and she wanted to finish it but he wasn't having any of it," recalled the teacher.
"She said she was really afraid of him. She told me that they had been at a wedding with him a few days earlier.
"John glared at her when she went out to dance with a neighbour. He grabbed her and said they were leaving.
"He then produced a knife, cut himself and then smeared his blood over himself and said that's what she would like if she ever looked at another man again."
She went on: "She (Anne) told me he strangled her; she thought she had died because she had passed out. He said he was going to kill her and he would get away with it.
"I feel I have to speak up for Annie and Anne. Anne told me 'If you don't do something soon you will be singing at my funeral'.
She said on one night Anne had gone into her own house in Ballybofey one evening and Gallagher was waiting for her. He attacked her.
"At the end of the attack – I know she alleged rape afterwards – he was dragging her away from the house when a neighbour came out and warned him off," the teacher told Joe Duffy.
"The guards came and they were in Anne's house that night and she told them what had happened."
The teacher said Gallagher threatened to kill himself that night on the bridge at Lifford.
He later signed himself into St Conal's Hospital in Letterkenny before signing himself out a day later.
"He followed them to Sligo and did what he did," said the teacher.
She was never called as a witness at the trial and none of the previous threats were ever brought up at the case where Gallagher was found insane.
"I was furious," she said when asked by Joe Duffy what she thought when she heard Gallagher had pleaded insanity.
Gallagher's sister-in-law Sharon told the programme that he had told her that he had "done this before and he will do it again."
She claimed his Gallagher was trying to get back into Donegal so he can get his hands on the family home.
Gallagher is back in the Dundrum Mental Hospital today after returning there this week – 12 years after absconding.
He is planning a legal bid to be declared sane – and released again.
Tags: