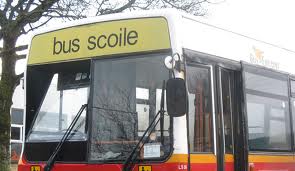 Changes to school bus rules are an attack on rural Ireland will mean new pupils travelling to different schools or their parents paying fares that are four times what they pay for their older brothers and sisters, an Inishowen councillor said today.
Yesterday parents in rural Inishowen, with children starting school in September received letters telling them their child would not be eligible to attend the same school as their siblings.
Cllr Mary Kelly said: "When rural schools were closed in the 1960s and 1970s, commitments were made to those communities that transport would be provided to newly formed amalgamated schools for families whose children previously attended the closed schools.
"These commitments need to be honoured. But the closed schools rule was amended in last December's budget, meaning new pupils at those schools from September 2012 will no longer be automatically eligible for free or reduced cost travel."
The councillor went on: "From September 2012 pupils would be entitled to a bus to the nearest school, so families will be split with older siblings going to different schools to younger brothers and sisters, but only if there are enough children to justify the bus.
"But more than likely, new entrants will have to pay €200 for a service on the same bus that their brothers and sisters will be getting for €50. The money saved is very little in the context of the overall budget. I feel this is a disgrace treatment of our children where the youngest child in a home has to get a different uniform, go to a different school, with possible different days off school, no older brother or sister to look out for them.
"I would be worried about the psychological effects on the children not to mention the added stress for parents.

This may well lead increased reliance on cars to get children to school, leading to greater danger for pupils on the way to and outside schools, as well as putting more expense on parents and being detrimental to the environment."
Tags: