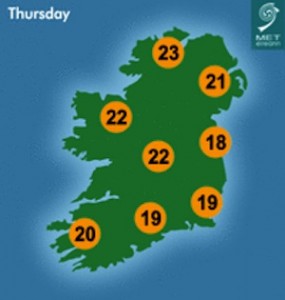 FED-up with TV forecasters talking about the Sunny South East?
Fret no more – because it will be the Sunny North West this week as temperatures soar to a Med-style 23C by Thursday….and possibly even higher than that on Friday.
And while temperatures will dip slightly towards the weekend, Met Eireann are today predicting a super sunny weekend.
That's great news if you are out and about this weekend at any of the numerous events including the superb Donegal Live music festival in Donegal Town; or doing charity work for Relay for Life.
Or you could enjoy the sights and sounds of the North West Garden Show in Castlefin.
Donegal will see the highest temperatures in the country today, Wednesday, hitting 20C….four degress higher than the south east of Ireland.
That will rise to 23C on Thursday, with a Met Eireann spokesman saying: "It will be very warm on Friday and probably the warmest day of the week, with afternoon temperatures reaching the low to mid twenties, highest in the north west."
Well don't say you weren't told:
https://www.donegaldaily.com/2012/05/19/at-last-after-seven-weeks-of-cold-glorious-week-of-weather-ahead-for-donegal/
Tags: