Labour party councillor Frank McBrearty has called for a full, independent inquiry into the One Sigma controversy.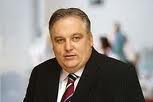 The system was aimed at overhauling work practices at Donegal County Council and has so far cost €3 million.
However there had been a major controversy around the system after two consultants were paid €30,000 a month.
Now Cllr McBrearty has said nothing but a full inquiry will get to the bottom of the questions posed by the controversy.
"I think at this stage we must have such an inquiry. We have to be seen to be accountable," he told donegaldaily.com.
"There are a lot of unanswered questions and we need to get answers to those questions if we are to retain our credibility.
"And I think it has to be completely independent. We cannot have council investigating the council the same way that we can't have the Gardai investigating the Gardai," he said.
Deputy Thomas Pringle recently raised the issue in the Dail and accused county councillors of failing to properly scrutinise what happens at council level.
However responding to the claim, Cllr McBrearty said he challenged Deputy Pringle to claim he had not examined the issues of the One Sigmia outside the Dail
"All I will say is that Deputy Pringle knew a lot more about the report into One Sigmia than most other members did.
"If he has an issue then he should make these claims in full outside the Dail," he said.