One of Donegal's best-known Garda has retired.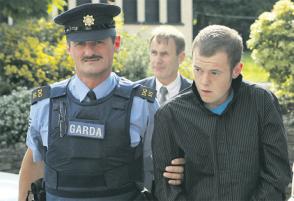 Sgt Christy Galligan is just 52 but has served An Garda Siochana for 29 years as well as another year in the Naval Service.
Christy closed the door on Carrigart Garda station where he has been stationed recently.
His father Mick was also a member of the force and Christy was actually born in the next house to the Garda station he ended his three decade career in.
He famously earned the nickname 'Robocop' after making a number of arrests even while not on duty.
He has been involved in some of the most high profile cases in recent years in the county and was famously pictured bringing Jamie McGrenaghan to court after he killed Christy's colleague, the late Garda Robbie McCallion.
He admits the force has changed a lot in recent years which has influenced his decision to retire.
Christy said he is looking at spending more time with his family now that he has retired.
Tags: