National Schools across Donegal are to play for the "Fran Fields Trophy".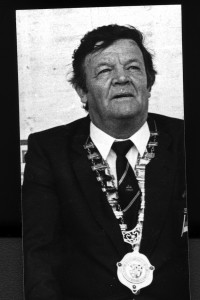 Finn Harps are delighted to announce that the legacy of co-founder will now be brought to a new generation at the forthcoming 2012 Finn Harps/Donegal Creameries Schools tournament.
From 2012 onwards, winning teams at the competition will be presented with the newly designed Fran Fields Trophy.
This year's event will include both male and female teams, selected by the 28 participating Donegal national schools, and will take place at Finn Park over the 6th, 7th and 8th of June
Fran Fields was the Finn Harps chairman who was instrumental in bringing senior football to Donegal in 1969. Fran's determination to bring sporting success to Donegal was legendary.
There were many, both within and outside the county, who doubted that a Donegal side could survive in the League of Ireland. Against all the odds, Fran and Finn Harps scaled the heights, and brought cup glory and European football to the North West.
Fran was held in huge esteem by the football world and his stature in the game was recognised when he became president of the FAI.
On his recent visit to Donegal the current CEO of the FAI John Delaney paid tribute to Fran's huge contribution to football, describing him as a "great football man, a great Finn Harps man, but also a great servant to the FAI and Irish Football"
Finn Harps in the Community Officer John Campbell says "Following the huge success of last year's national schools competition, everyone is really looking forward to this year's event.
"I am delighted that Fran's wife June and family has accepted our request to acknowledge Fran's legacy to the football family. He was not only a very influential figure in Donegal football, but was also highly respected at national and international level.
"I think he would be delighted to see the next generation of footballers developing their talent at Finn Park so it is fitting that the new trophies will be named after him."
With 1,655,000 page views last month, get your story seen on Donegal Daily.
Send your stories and pictures to info@donegaldaily.com
Follow us on www.twitter.com/donegaldaily
Tags: