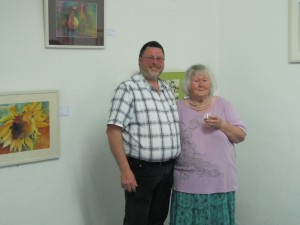 A new exhibition of watercolours by local artist Mary Ellen Bonner opened at the Burtonport Welcome Centre over the weekend.
Mary took up art as a hobby after her retirement and studied initially at courses run at the Rosses Community School, Dungloe in 1975. The artist then went on to study in Ireland with Anne Marie Bourke in Limerick and Barbara Barrett in Kinsale, Cork who had an interest in flowers and good use of colour.
Barbara also arranged for courses by the American artist Carlyn Holmen who was originally an illustrator and she taught a lot of techniques including sjablone and semi-abstract. The non-perfect semi-abstract appealed to Mary and she describes it as allowing the colours to flow and have happy accidents.
Mary travelled to England to study with Liz Seward whose work she admired however Mary's artist of the moment is John Hoar who uses only four colours and two big brushes to create beautiful Connemara landscapes.
Spanning 37 years of work the exhibition is a collection of semi abstract watercolour landscapes, flowers, seascapes and still life.