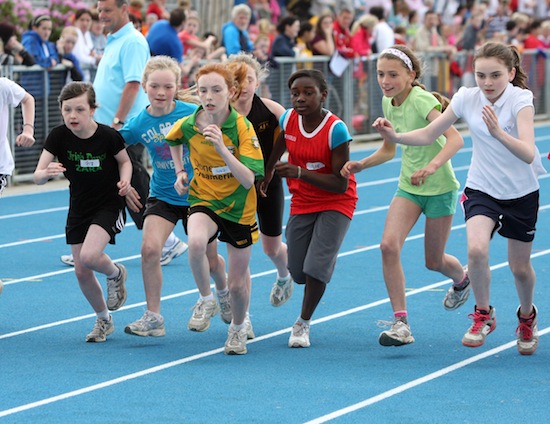 There was a tremendous turn-out for the 42nd annual Primary Schools Athletics Finals today at the Finn Valley Centre.
With 1270 athletes representing 82 schools in the area, it was indeed a memorable .
One looks for outstanding performances on days such as this but everyone was a winner as schools participating in athletics grows year on year .
Overall there is the motivation of being regarded as best school in the various categories and on this occassion those titles go to Scoil Iosagain,Buncrana:Annagry N S and Gleneely,Killygordon.
There were noteworthy performances amongst them including athlete of the meet James Kelly of St Baithins, St Johnston a whooping 15.38m to win his shot.
Other notable showings included Aine Kerr ,St Bridgets,Convoy ,Aaron Mc Glynn ,Comeen:Jessica Quigley,St Marys Stranorlar;Laura Crossan ,Lurgybrack;Conor Black,Kilmacrenan;Aoife Lennon,Scoil Iosagain;Sean Mc Donagh ,St Josephs with a mighty Ball throw 47.28m;BryanMc Namee ,St Bridgets;Pauric Harold ,Dooish and Janine Boyle ,Dooish;Stephaie Okoh ,SMGS ,with a jump of 4.02 for a girl born 2003 is exceptional;Jack Gillespie and Oisin Mc Elhinney from Gleneely;David Boakye,Scoil Colmcille;Michaella Galvin,Drumoughill.
The list goes on and on but suffice to say all associated with the event deserve great credit for the uninterrupted organisation and those schools that did respond to the invitation to paricipate provided a valuable learning experience to the children in their care .
Schools athletics returns September 26th with cross country again back at Finn Valley
Below you find some of the pictures and also ALL the results on what was a proud day for Donegal schools and their pupils.
ALL THE RESULTS FROM THE DAY – PLUS PLUS PLUS – MORE PICTURES BELOW!!
Boys Shot Putt 1999/2000
1. James Kelly, St. Baithins 15.38m
2. Ryan Boyle, Acres 12.11m
3. Jerome Atnahena, Scoil Colmcille 11.66m
4. Branden O'Donnell, Lurgybrack 11.45m
Boys High Jump 2003
1. Patrick Marry, Annagry 1.05m
2. Jamie McDaid, Scoil Iosagain 1.00m
2. Orin McLaughlin, Scoil Iosagain 1.00m
2. Barry Byrne, Termon 1.00m
Girls Long Jump 2000
1. Lauren Crossan, Lurgybrack 4.09m
2. Alisha Green, Rannafast 3.93m
3. Murrin Duffy, Dooish 3.87m
4. Tara Harley, Ranafast 3.86m
Boys Ball Throw 2000
1. Brendan Biogan, St. Marys Castlefin 45.41m
2. Keegan Hegarty, Scoil Iosagain 43.76m
3. Philip Blazejczak, Scoil Colmcille 43.67m
4. Dillon Lafferty, Droim Mor 42.77m
Girls High Jump 2003
1. Connie Doherty, scoil Iosagain 1.04m
2. C. Doherty, St. Marys Stranorlar 1.04m
3. Aisling Davis,St. Marys Stranorlar .90m
4. Rachel McKnight, Raphoe Central .90m
Boys Long Jump 2002
1. Stephen Black, Kilmacrennan 4.20m
2. Adam Whoriskey, Scoil Iosagain 3.85m
3. No. 443 3.80m
4. Cahair Doherty, Scoil Iosagain 3.51m
Boys Long Jump 2000
1. Janie Doherty, Woodland N.S. 4.55m
2. Conor O'Donnell, Scoil Colmcille 4.25m
3. Dylan Lafferty, Dromore 4.25m
4. Andtzej Blader, St. Marys Stranorlar 4.16m
Boys High Jump 2000
1. James Kelly, St. Baithins 1.35m
2. Thomas Mullin, Raphoe Central 1.30m
3. Adam Duffy, St. Mhuires, Tooban 1.25m
4. John Timlin, Scoil Iosagain 1.20m
Girls Shot Putt 1999/2000
1. Naoimh McGranaghan, Castlefin 11.03m
2. Lucy Jackson, Scoil Iosagain 8.26m
3. Tara Ni Ahrlight, Ranafast 7.95m
4. Thayane Souze, SMGS 7.65m
Girls Ball Throw 2000
1. Ciara Arthur, Scoil Iosagain 30.33m
2. Erin Duffy, St. Pats, Castlederg 28.47m
3. Leah McGee, Raphoe Central 25.97m
4. Tegan McDaid, St. Pats Carndonagh 25.53m
Girls Long Jump 2002
1. Kate Smith, Magherabeg 3.89m
2. Michella Byren, Nil Mor 3.86m
3. Danella Jansen, Dromore 3.54m
4. Yvonne Byrne, Annagry 3.28m
Boys Long Jump 2001
1. Rory Dalton, Castlefin 4.05m
2. Ronan Frain, Woodland N.S. 4.00m
3. Pauric Harold, Dooish 3.98m
4. Mike McFadden, Annagry 3.90m
Boys Long Jump 2003
1. Pat Marry, Annagry 3.50m
2. Jamie Murray, St. Marys 3.45m
3. James O'Hagan, Scoil Iosagain 3.32m
4. Christopher Mulligan, Fintra 3.30m
Boys Shot Putt 2001
1. Charlie Worth, Gaelscoil, Lk 9.00m
2. Dillon Duffy, Tiernasligo 7.80m
3. Mark McElhinney, Castlefin 7.76m
4. Maciek Orlik, Illistrin 7.63m
Boys Ball Throw 2001
1. Sean mcDonnagh, St. Josephs Drum 47.28m
2. Mark McFadden, Scoil Iosagain 38.98m
3. Kian Harkin, Woodland N.S. 38.69m
4 Reece Uftan, Milford 37.95m
Girls High Jump 2000
1. Jill McGettigan, Kilmacrennan 1.20m
2. Caoimhe Boyle, Annagry 1.20m
3. Cathy Callaghan, Dromore 1.15m
3. Cathy Bannigan, St. Marys, Stran 1.15m
Girls 60m 2005
1. Jenny McGettigan, Kilmacrennan
2. Roisin Doyle, Naoimh Brid, Muff
3. Hannah Murray, St. Marys Castlefin
4. Leah McMonagle, St. Marys Stranorlar
Boys 60m 2005
1. Caydeen Atoge, Woodland N.S.
2. Caolan Fox, Gael Scoil, LK
3. Athan Doherty, Scoil Colmcille, LK
4. Ciaran Crawford, Murlog
Girls 60m 2004
1. Michella Galvin, Dromoghill
2. Kelly Anderson, Dromoghill
3. Brenda Carr, Dooish
4. Ainne Irwin, Dromore
Boys 60m 2004
1. Oisin Kelly, Kilmacrennan
2. Abraham Hassan, Gaelscoil, Lk
3. Ewan Douglas, Milford
4. Armanas, Dromore
Girls 80m 2003
1. Stephanie Okoh, SMGS
2. Ciara McGarvey, Creeslough
3. Orla McElchar, Gleneely
4. Kelly Duffy, Tooban
Boys 80m 2003
1. David Boakye, Scoil Colmcille, LK
2. Denzil Frinpong, Scoil Colmcille LK
3. Jamie Murray, St. Marys Stranorlar
4. Luke Downey, Kilmacrennan
Girls 80m 2002
1. Jessica Quigley, St. Marys Stranorlar
2. Lauren Callaghan, Dromore
3. Michella Byre, Niall Mor, Killybegs
4. Kate Smith, Magherabeg
Boys 80m 2002
1. Conor Black, Kilmacrennan
2. Bobby McGettigan, Kilmacrennan
3. Owen Dowling, Woodland NS
4. Darren Connaghan, St. Bridgets Convoy
Girls 100m 2001
1. Aine Kerr, St. Bridgets Convoy
2. Sinead Gallagher, St. Marys Stranorlar
3. Amy Boyle Carr, Glenties
4. Lee Walsh, SMGS
Boys 100m 2001
1. Pauric Harold, Dooish
2. Aaron McDaid, Scoil Iosagain
3. Michael McFadden, Annagry
4. Shane O'Donnell, Scoil Colmcille, LK
Girls 100m 2000
1. Hannah McElchar, Gleneely
2. Alisha Greene, Rannafast
3. Murrin Duffy, Dooish
4. Gemma Doherty, Scoil Naoimh Brid
Boys 100m 2000
1. Jamie Doherty, Woodland NS
2. Thomas Mullen, Raphoe
3. Ciaran Black, Kilmacrennan
4. Conor O'Donnell, Scoil Colmcille LK
Girls 300m 2003
1. Connie Doherty, Scoil Iosagain
2. Chloe Coyle, Dromore
3. Annie McClintock, GaelScoil LK
4. Ciara McGarvey, Creeslough
Boys 300m 2003
1. Liam Hannigan, Gael Scoil LK
2. Patrick Marry, Annagry
3. Michael McLaughlin, Gaelscoil, Buncrana
4. Dean Quigley, Lifford
Girls High Jump 2001
1. Aoife McGlade, St. Patricks Castlederg
2. Chantelle McGrath, St. Muras tooban
3. Mia McDevitt, Annagry
Girls Long Jump 2001
1. Aine Kerr, St. Bridgets Convoy 4.34m
2. Sinead Gallagher, St. Marys Stranorlar 4.29m
3. Amy Boyle Carr, Scoil Mhuire, Glenties 4.04m
4. Clare Doherty, Woodland N.S. 3.72m
Girls Ball Throw 2001
1. Jodie Carlin SMGS Lifford 30.53m
2. Roisin Rodgers, Rannafast 26.12m
3. Leah McDaid, Scoil Iosagain 24.16m
4. Chloe Carter, Raphoe Central 23.66m
Long Jump Girls 2003
1. Stephanie Okoh, SMGS LK 4.02m
2. Charlene Patton, Dooish 3.23m
3. Kaitlin Gorrell, Fintra 3.17m
4. CJ Doherty, St. Marys Stran 2.90m
Girls Shot Putt 2001
1. Casey McGarvey, Annagry 7.24m
2. Tiegan O'Donnell, St. Columbas 6.49m
3. Megan Moss, Dooish 6.16m
4. Dominika Godlenska, Scoil Mhuire 6.04m
Boys High Jump 2001
1. Oisin McElhinney, Gleneely 1.28m
2. Alex McGeehan, Dooish 1.25m
3. Aaron McDaid, Scoil Iosagain 1.25m
4. Michael McFadden, Annagry 1.20m
Girls High Jump 2002
1. Aoife Lennon, Scoil Iosagain 1.13m
2. Lauren Callaghan, Dromore 1.11m
3. Caitlin McGonagle 1.11m
4. Lara Jane Doherty 1.11m
Boys High Jump 2002
1. Ben Lynch, Scoil Iosagain 1.15m
2. Stephen Black, Kilmacrennan 1.15m
3. John Barry Quigley, S. Iosagain 1.15m
Girls 100m 2004
1. Brenda Carr, Dooish
2. Michaela Galvin, Drumoghill
3. Aisling Amponsar, Illistrin
4. Aine Irvin, Dromore
Boys 100m 2004
1. Oisin Kelly, Kilmacrennan
2. Michael Adu, Scoil Colmcille, LK
3. Ewan Doughlas, Milford
4. Abhahan Hassan, Gaelscoil
Girls 800m 1999
1. Altan Ni Mhuirchu, Gael Scoil LK
2. Saoirse Callaghan, Gael Scoil LK
3. Janine Boyle, Dooish
4. Edel Smith, Lurgybrack
Boys 800m 1999
1. Brian McNamee, St. Bridgets, Convoy 2.24.55
2. Denver Kelly, Tooban 2.29.16
3. Calvin O'Brien, St. Marys Stranorlar 2.32.62
4. Oisin Hession, Tiernasligo 2.33.48
Girls 600m 2002
1. Danielle Jansen, Dromore 1.59.79
2. Meagan Ryan, Milford 2.00.40
3. Jessica Quigley, St. Marys Stranorlar 2.03.16
4. Jennifer Sanches, St. Marys Stranorlar 2.05.07
Boys 600m 2002
1. Conor Black, Kilmacrennan 1.51.44
2. John Reid, St. Bridgets, Convoy 1.58.25
3. Carlos O'Reilly, Creeslough 2.00.11
4. Dylan Dorrian,Droimin, Ballyare 2.0084
Boys 600m 2001
1. Jack Gillespie, Gleneely 1.48.92
2. Ronan Frain, Woodlands 1.53.15
3. Shane McMonagle, Tooban 1.56.10
4. Cian Mccolgan, Muff 1.59.00
Boys 800m 2000
1. Aaron McGlynn, Coimin 2.27.99
2. Luke Gavigan, Dooish 2.37.69
3. Ben Carr, Woodlands 2.38.44
4. Samuel McClintock, St. Marys Stranorlar 2.38.56
Girls 600m 2001
1. Zoe Kelly, Dromore 1.58.99
2. Jodi Carlin, Lifford 1.59.96
3. Karen Gallagher, Scoil Mhuire Cashel 2.02.05
4. Aoife McGrath, St. Pats, Castlederg 2.05.11
Girls 800m 2000
1. Laura Crossan, Lurgybrack 2.39.35
2. Jill McGettigan, Kilmacrennan 2.50.00
3. Eadaoin O'Raw, Dessertegney 2.53.25
4. Lauren Callaghan, Scoil Iosagain 2.55.36
Girls 100m 1999
1. Janine Boyle, Dooish
2. Amy Hanna, Annagry
3. Chloe grant, Scoil Iosagain
4. Emer Clerkin Scoil Iosagain
Boys 100m 1999
1. Jerome Atuahene, Scoil Colmcille, LK
2. Ronan O'Donnell, St. Bridgets Convoy
3. Calvin O'Brien, St. Marys Stranorlar
4. Denver Kelly, Tooban
Relays 2002 & 2003 Girls
SMALL SCHOOLS
1. Gleneely
2. Rosses
3. Donoughamore
MEDIUM SCHOOLS
1. Annagry
2. Dromore
3. Carndonagh
LARGE SCHOOLS
1. St. Marys Stranorlar
2. Scoil Iosagain
3. Kilmacrennan
Relays 2002 & 2003 Boys
SMALL SCHOOLS
1. Fintra
2. Lifford
3. Tiernasligo
MEDIUM SCHOOLS
1. Newtowncunningham
2. Annagry
3. St. Bridgets Convoy
LARGE SCHOOLS
1. Kilmacrennan
2. Scoil Iosagain
3. Woodland NS
Relays 2000 & 2001 Girls
SMALL SCHOOLS
1. Gleneely
2. Rannafast
3. Drumfries
MEDIUM SCHOOLS
1. Dooish
2. Annagry
3. St. Marys Castlefin
LARGE SCHOOLS
1. SMGS LETTERKENNY
2. St. Marys, Stranorlar
3. Scoil Iosagain
Boys Relay 2000 & 2001
SMALL SCHOOLS
1. Fintra
2. Gleneely
3. Loughanure
MEDIUM SCHOOLS
1. Dooish
2. St. Muras Tooban
3. St. Marys Castlefin
LARGE SCHOOLS
1. Woodland NS
2. Scoil Iosagain
3. Scoil Colmcille LK
OVERALL
LARGE SCHOOL
1. Scoil Iosagain, Buncrana 71 points
2. Kilmacrennan N.S. 54 points
3. St. Mary's Stranorlar 45 points
MEDIUM SCHOOL
1. Annagry N.S. 37 points
2. Dromore N.S. 31 points
3. St. Bridgets Convoy 24 points
SMALL SCHOOL
1. Gleneely N.S. 28 points
2. Fintra N.S. 15 points
3. Lifford N.S. 12 points
Tags: