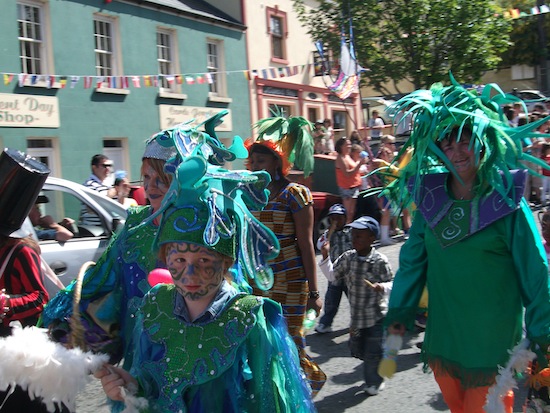 It's another fun-packed, family weekend in Ardara as The Melting Pot hits town celebrating its fifth fantastic year.
This multicultural festival celebrates intercultural diversity from across the globe incorporating music, dance, art, food and film. This year's theme, in this Olympic year is 'Cultures Unite'
A wonderful weekend of events has been planned for all the family to enjoy.
Kicking off on Friday 1st June with a Pop up Art gallery with local and international artists followed by Chinese lanterns by the river. Music includes Ian Smith Vintage and Jack Jive & the Slammers.
Saturday afternoon sees The Bluestack Jam Club performing on the Diamond stage while Mr Majestic hosts his magic show for the kids. Kilclooney Country market will be open for business while Nancy's bar hosts a BBQ with music by Red Sail.
The Flower Pot will be hosting a 'Flower Power' afternoon for children including face and balloon painting. Music includes Kathy Crinion, Paul Buckley and on tour from Armenia, rock band with a folksy twist – The Bambir.
Sunday sees the indoor Global Market and Foods of the World in the Heritage Centre. The quaint Carnivalesque Pageant will parade through town with adults and children in colourful costumes supported by Spotlight dance troupe and Donegal Samba band and include World Dolls project supported by One Donegal. Music includes Freefall, The Man in Black, Urban Hermits and from Portland Oregon, The Underscore Orkestra.
Bank Holiday Monday sees the festival chill out with an afternoon of pampering including Indian head massage, Thai massage, Reflexology and Reiki followed in the evening with the festival wind down. A great array of comedy and musical talent including The Mangina Monologues, Foutains Fall and Yesterday's Jam brings the weekend to an ascending ending.
With a lot further going on over the weekend including more music, dance, film screenings, world beer promotions, festival foods, global stalls plus loads more for the children. There really is something for everyone. This really is a family friendly festival that must not be missed.
For further details see the website: www.ardarameltingpot.com
Or contact Martin 087 677 4069
Tags: