Daniel O'Donnell, the only celebrity to be interviewed by all FOUR Late Late Show presenters, said he hopes the RTE show will go on forever.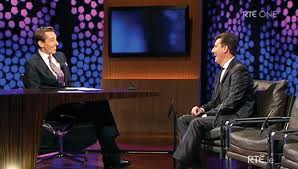 The singer, who was interviewed by Gay Byrne, Pat Kenny, Gerry Ryan and Ryan Tubridy, will appear on the show's 50th anniversary special tonight.
The Donegal entertainer told Donegaldaily.com that all presenters brought a unique style to the show.
"Somebody reminded me that I am the only person to be interview on the show by all four presenters.
"Of course Gerry presented the show when Pat's mother passed away and it was sad that he died.
"All four were very different presenters but they all brought their own unique style to the programme," he said.
Daniel said his earliest memory of The Late Late Show was when his sister Margaret (Margo) appeared with Gay Byrne in the late 1960s.
"I was only a boy and Margaret was only 16 or 17 and it was such a huge deal.
"We all sat around the television and watched her and we jus couldn't believe she was on the show.
"When she came home to Donegal we had a big party for her.
"Even now when I go on the show I get a little nervous because it is the biggest show on Irish telelvision," he said.
The singer said he estimates that he has been on the show on up to 20 occasions.
However he says the occasion that sticks most in his mind is the show which Pat Kenny hosted for the victims of the Omagh Bombing.
"I was singing on the show that night and it is something I will never forget. It was such a touching occasion.
"People have their own favourite Late Late Shows but there are really so many great moments that it's difficult to pick one which really stands out," he said.
Daniel said he hopes the Late Late Show will go on forever saying it was "part and parcel" of Irish society now.
"People said that when Gay left it wouldn't be the same and they said the same when Pat left.
"I know numbers might be down but there is so much choice on television channels these days that people can choose whatever they want to watch.
"But I think the Late Late Show has and always will be part of Irish culture and I hope it continues," he said.
Tags: