LATEST 12.55pm: DONEGAL has voted 'No' to the Fiscal Treaty after the final tally in both count centres were completed.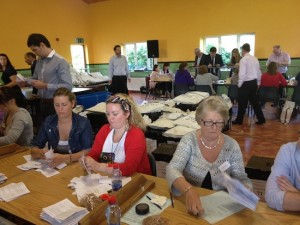 An official count has come in from Donegal South West which shows that 54.95% voted No while 45.05% voted Yes.
The total turn-out was 26,465 out of a possible vote of 63,127 votes – a 41.92% turn-out.
In the Donegal North East constituency 55.62% of people voted against the Treaty – or 13,758 people.
The result showed 44.38% in favour – or 10,975 people.
The turn-out was 42.59% – just shy of the 45% predicted by donegaldaily.com last night.
There were 136 spoiled votes giving a valid poll of 24,733.
The break-down of the Donegal North East vote was Inishowen – 58.17% No, Letterkenny – 50.65% No, Milford – 54.58% No.
Sinn Fein TD Padraig MacLochlainn says he believed the Fine Gael voters "haven't come out" and neither had the Fianna Fail vote.
The Donegal NE TD said: "We are pleased Donegal has said No to the austerity treaty in each of the three electoral areas.
"Even the large No vote nationally is remarkable considering all the threats from the Yes campaign that were made threatening a new apocalypse.
"It is vital now that the Government takes its boot off the necks of the people so that jobs can be saved and created."
Fine Gael North Est Deputy Joe McHugh said he was delighted the Treaty has been passed nationally.
"I have examined the tallies so far and more than 40 boxes had a clear Yes majority in the Donegal North East constituency with more than 10,000 people voting yes.
"I am confident the Fine Gael vote came out on the day."
On the low turn-out, he added: "As referendum polls go, it is always difficult to get people out."
Senator Jimmy Harte from the Labour Party has conceded that "early indications show that the No vote is shading it; but I believe that the Treaty will be carried nationally."
Asked about the low turn-out in both Donegal constituencies, Deputy MacLochlainn said: "It's actually not far off the first Nice referendum which was around 35%."
A final count is expected later this afternoon from the Bonagee Community Centre in Letterkenny and the St John Bosco Centre in Donegal Town.