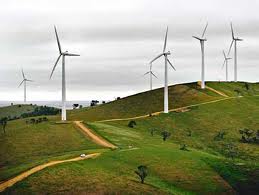 The Gweebarra Conservation Group has welcomed the decision of An Bord Pleanála to hold an Oral Hearing into the controversial 25 industrial wind turbine plant proposed by Straboy Wind Energy Ltd in six Townlands only a kilometre outside the picturesque village of Glenties.
The Group were among those who called on the Planning Board to hold an Oral Hearing into the wind plant which was granted planning permission by Donegal County Council earlier this year.
'This will give all those opposed to the project a chance to confront the developers who had no consultations with the local people before applying for planning permission for 38 wind turbines, each the size of a jumbo jet, on the same site in 2010. Straboy Wind Energy Ltd then withdrew that application and reapplied for planning permission for 25 turbines in 2011," said the Gweebarra Conservation Group.
"Given the proximity to Glenties and to several Special Areas of Conservation, including Salmon spawning beds and the world's largest Freshwater Mussel population in the Owenea River and the large Grouse and Bat population on Derkbeg Hill, this project should never have been given planning permission in the first place," according to the Conservation Group which has over a thousand local supporters.
The Group recently welcomed the findings of the Bowdler Report which criticised the acoustics statistics submitted in Straboy Wind Energy Ltd's Environmental Impact Statement, stating that the wind company's EIS was 'fatally flawed'.
The group went on: "There are studies on the ill-health effects suffered by people living up to ten kilometres from industrial wind turbines being published almost weekly around the world and, given that the United Nations has recently condemned the EU for contravening the Aarhus Convention in not engaging with its citizens on what type of renewable energy projects we want, it is only right that An Bord Plean­ála is affording the local people the opportunity to voice their concerns.
"The Planning Board has yet to decide where or when the Oral Hearing will be held and, undoubtedly, it will cost the local people more money but at least we can reclaim that money under a recent High Court environmental Ruling', a spokeswoman for the Group said.