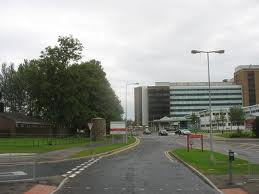 THE North's health minister's representatives have met with Donegal cancer care campaigners to assure them that the Northwest Radiotherapy Unit at Altnagevin is scheduled to be completed on time.
Co-operating for Cancer Care NorthWest, CCC(NW), said it very pleased to meet recently with a health official from the Department of Health, Social Services & Public Safety, NI, to discuss progress regarding the North West Radiotherapy Unit at Altnagelvin, (NWRU).
Edwin Poots, Minister for Health and Donegal-born William Hay, Speaker for the Assembly facilitated this meeting.
CCC(NW) says it has been assured that since Minister Poots approved the Project on 23 May 2011, the timetable for completion and operation of the Radiotherapy Unit remains on track.  In summary:
•     The Radiotherapy Unit Manager has been appointed and is in post;
•     Outline Business Case 1 (OBC1) has been approved.  Preliminary enabling works design has already commenced on some of the peripheral areas adjacent to and within the Altnagelvin Tower Block by the existing tower block design team.  This work will ensure the minimum amount of time is expended in the commencement of the main scheme;
•     Outline Business Case 2, (OBC2) is nearing completion and it is envisaged that it will go to the Department of Finance & Personnel for final approval by summer/autumn;
•     Intensive work continues at all levels of the project, particularly in the project team and subgroups, to progress preparations with regard to the site enabling works and the planning of the new unit.  When the appointment of the design team has been confirmed, work will commence immediately on the radiotherapy unit design;
•     It is envisaged that the construction of the radiotherapy unit will commence in autumn 2013 with completion by 2015.  Following a period of commissioning, the unit is planned to be fully operational by mid 2016;
•     The National Cancer Control Programme (NCCP), The Department of Health and Children (DoHC) and Letterkenny General Hospital (LGH) continue to fully engage with their Northern Ireland counterparts to realise this Project.  The DoHC, the NCCP and LGH/HSE are represented on the Project Board and Project sub-committees.
Said Noelle Duddy, Spokesperson, CCC(NW):"Over the years we have developed very good working relationships with management from LGH and the Western Health & Social Care Trust (WHSCT) at Altnagelvin.
"We believe that the central ethos for this unit must be one of social inclusion, equal access according to clinical need and true cross border collaboration based on LGH, Altnagelvin and both Health Boards working to develop each other's strengths.
"Both Hospitals and Health Boards must have ownership of these services so that a comprehensive, fluent, seamless cancer/radiotherapy service is provided for all cancer patients in the North West Region.  CCC(NW) remains confident that staff from both Letterkenny and Altnagelvin Hospitals continues to work together, in collaboration to develop a world class radiotherapy service in the NW for cancer patients.
"Let us remind ourselves why we need a Radiotherapy Unit in the North West Region.  One in three people are expected to receive a cancer diagnosis in their lifetime one in four will die from cancer.  50 – 60% of cancer treatments involve radiotherapy.  Treatment requires the patient to attend a radiotherapy unit, usually daily, Monday – Friday for several weeks, often travelling distressing hundreds of miles for treatment, and coping with an added financial burden.  Depending on treatment prescription, treatment varies from days to weeks.  Breast and prostate cancer treatments may last between 4 and 7 weeks.  Each actual treatment session lasts for several minutes."
Ms Duddy went on: "As it stands, Donegal and its environs do not have a large enough population to safely sustain a radiotherapy unit and neither do the WHSCT. However, as a region, the North West's population exceeds 500,000 and by joining together the populations on either side of the Border, the 'critical mass' required to safely provide a radiotherapy service can be achieved.
"As a region, the North West is co-dependent on both jurisdictions accepting responsibility to provide its people with a Radiotherapy Unit.  The NW is currently the only region on this island without reasonable access to radiotherapy services.
"When it is operational the majority of cancer patients in Donegal/NW requiring radiotherapy will be able to receive their treatment near to home, families and friends.  Patients who currently have to refuse treatment because they are unable to travel to Dublin, Galway or Belfast, will be able to accept and avail of treatment.  The NWRU is a very successful good news story for this region and the services it will provide will do nothing short of strengthening and enhancing cancer services for patients in Donegal/NW.
"CCC(NW) very much welcomed in Minister Poots May statement recognition that 'the location of the new centre in the Northwest also provides the opportunity for genuine, sustainable and meaningful cross-border co-operation and that it has the potential to deliver real mutual benefits to both jurisdictions'.  We also welcome the approval of the 'North – South Feasibility Study' by both Departments of Health and we welcome the Joint Committee on Health and Children and the NI Assembly's Health Committee meeting in Leinster House to discuss 'Cross Border Co-operation on Healthcare' in March this year."
"At a local level we were assured by Mr Sean Murphy, General Manager, LGH and Mr John Hayes, Local Health Manager, HSE West, during a meeting with CCC(NW) held in March that they envisaged a strong and positive future working with colleagues from across the border.  CCC(NW) believe increased North-South co-operation in healthcare is a win, win situation for everyone: for the patient, healthcare provider and tax payer on either side of the border."
Tags: