Today was payback time for the many long-suffering friends of Donegal businessman Paddy Bourne.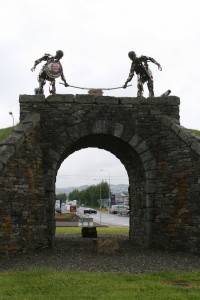 The retired millionaire entrepreneur reached a certain milestone.
He has sworn friends not to tell people that he has reached the half century so we won't tell anyone either.
Needless to say Paddy, who is originally from Kilcar, doesn't look a day over 49.
Having earned his millions from his successful concrete business, Paddy now swaps his time between his adopted home in Letterkenny and his villas in Spain and Florida.
His many friends including those at Donaghey Motorhomes today erected special signs at the Dry Arch Roundabout wishing Paddy all the best for his big celebrations.
We've been told people should spare a thought for Paddy's long suffering wife Patricia and three daughters.
So if you happen to pass Paddy in his 15 year old Isuzu Trooper (even though he can afford a 2012 Merc), wish him all the best.
From the bog to Bermuda – a genuine Donegal success story!