One of Ireland's tidiest towns has been left devastated after TWO stolen buses were driven through the centre of the town destroying plant and flowers beds.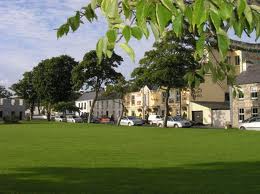 Malin has enjoyed a huge tradition in the Tidy Towns competition and won the competition in 1970.
The organising committee are this week awaiting the arrival of the judging panel for this year's competition.
But villagers have been left devastated after one of the buses did a "dounghnut" on the village's central green.
John McLaughlin of the Tidy Towns committee told the Shaun Doherty Show on Highland Radio that people are just shocked by what has happened.
"It is just devastating. This looks like a planned exercise but hopefully it's not deliberate to damage Malin's chances in the tidy town's competition.
"I have been told that two buses were involved but there was certainly one," he said.
It is believed the attack happened around 4am this morning.
Organsiers estimate it will take a full week to get the green fixed up and may even have to set down false grass.
Mr McLaughlin has also appealed to anyone who can help to assist them.
"We need to knuckle down and get the green back in the shape it was.
"For the past fifty years the judging panel of the Tidy Town's committee has commented on how well the green looked.
"In fact they told us never to change the green and now these thugs come along and change it overnight," he said.
A Garda spokesman confirmed a full investigation into the incident is underway.
CCTV is also being viewed in an attempt to identify the culprits.
Tags: