Gardai are examining a possible link between the theft of two buses in the early hours of yesterday morning and another bus which was stolen and burned out in Culdaff in April.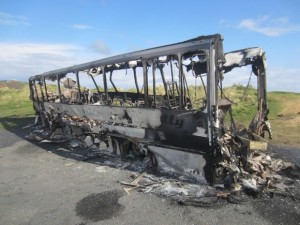 Two Lough Swilly buses were stolen from Carndonagh and Moville and taken to Malin where they did 'doughnuts' on the town's village green.
Just weeks ago another Lough Swilly bus was taken for a yard and found destroyed at Culdaff beach.
Garda Supt Kevin English said whoever is taking the buses knows what they are at and has to have a certain amount of expertise.
"We are examining if there is a link between the incidents and have not ruled anything out at the moment.
"It does take a certain amount of knowledge to control such a large vehicle and we would appeal to anybody who may known anything to contact us.
"These buses were being driven around Inishowen at 3am and somebody must have thought that was unusual," he said.
Tags: