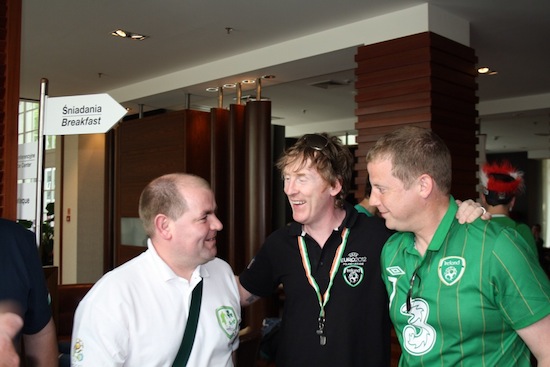 Donegal fans are counting down the hours to Ireland's "do or die" game against Spain in Sopot in the Euro 2012 Championships tonight.
Hundreds of Donegal fans have arrived in Gdansk for the crucial game which kicks off at 7.45pm.
Letterkenny man Stephen Doherty said the atmosphere is electric and wished Shay Given and all the team the best of luck.
"It feels like half of Donegal is here. Everywhere you go you meet someone. We were at the team hotel this morning and it was lovely.
"We met some of the team and they were in great form. Hopefully we can do it and keep our dream alive," he said.
Among the other Donegal fans at the hotel were Gerry Meehan, Conor Doherty, James Barcley, Tadhg Culbert and Odhran McGowan.
Back home the atmosphere is also building ahead of the big game.
Large crowds are expected in Letterkenny where a huge screen has been erected at Market Square.
Pubs across the county have reported a steady build-up to the game and are hoping a victory can spark renewed interest after a poor start.
Cmon Ireland!!