Concentrating on completing the Leaving Cert is a difficult task for mist students.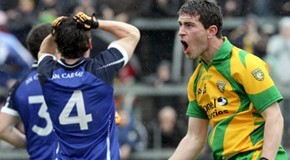 But for one Donegal student it's even more difficult.
Patrick McBrearty is finishing his exams at Carrick Vocational School today along with the rest of his classmates.
But he certainly won't have time to paint the town red.
Not unless he wants a severe talking-to from Donegal GAA boss Jim McGuinness!
The 18 year old is set to feature at some stage tomorrow when Donegal take on Derry in the Ulster Championship at MacCumhaill Park.
Paddy had been tipped to travel to Australia for a period after his Leaving Cert with several Australian Rules clubs looking to sign him up.
But it would appear now that Jim McGuinness has won the battle to keep him playing for Donegal.
Tags: