Shay Given has given his biggest hint yet that he may be about to retire from international football.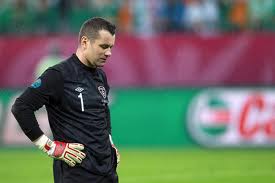 The Lifford man, 36, has admitted he will sit down after the Euro 2012 Championships and decide if he wants to wear the green shirt again.
Shay made his comments as he left the Gdansk Arena after Ireland's frustrating 4-0 defeat by Spain.
The Donegal sporting legend admitted "I'm hurting really badly at the moment so it would be foolish to make a decision.
"But I think it might be time to step aside and let somebody else come into the side now," he said.
Shay said he had time to consider his future as the next game is not until August but that he will sit down with his family and make a decision one way or another.
"At some point I'm going to have to make a decision. I'll go home and have a long, hard think about it.
"It's something for me to think about when I'm on holiday and I'll discuss it with my family first before I make a decision," he said.
Tags: