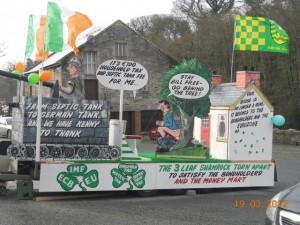 Campaigners against the household and property tax have called on people in Co Donegal who haven't paid their charges to hold their nerve.
They said today that any attempt by government to deduct the household tax or the new property tax at source from PAYE workers is "unworkable as long as people continue to refuse to register".
"The reason why the government wanted householders to register for the Household Tax  was because they don't have a central database and don't know who to levy it on," said Francis McCafferty of the Can't Pay, Won't Pay campaign.
"With half of households refusing to register, two thirds in Donegal, that remains the case.  They don't know who to levy the new property tax on so they don't know who to deduct it from.  We will hold firm in our determination to boycott the stealth taxes."
"The fact that the government has been forced to talk about deducting the property tax at source is a testament to the strength of the campaign of opposition and boycott. The campaign exists in every county and the boycott campaign remains extremely strong, so it's no wonder that the government are desperately casting about for ways to attempt to break the boycott."
"Indeed if an attempt is made to deduct the property tax at source, it will make a mockery of the government's election promise not to increase income tax. It will end the pretence that this is a charge to fund local services. If it is deducted from your wages and goes into central taxation, then it is nothing more than an income tax on homeowners.
"It will prove that this tax is not about widening the tax base but about making ordinary people pay the gambling debts of bankers and developers while the wealthy continue to escape scot free."
Tags: