Donegal South West TD Pearse Doherty has described the increased waiting times for Social Welfare payments as disgraceful.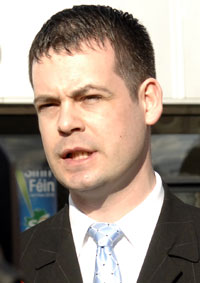 Speaking after a response from Minister for Social Protection, Joan Burton, to his recent Parliamentary Questions on the issue, he claimed the FG Lab government have made waiting times worse
The waiting time for the majority of claims has increased while the waiting time for just four payments has decreased, he said.
"Meanwhile, people are waiting up to 28 weeks for carers' allowance compared to 13 weeks last year, an increase of four months.
"In my own constituency office, I am aware of people still waiting after ten months for a decision on carer's allowance claims and reports from staff in the Department are that they are now only processing claims from September last year.
"Waiting times for one parent family payments has risen to 17 weeks while widowers' non-contributory pension and state non-contributory pension waiting time has risen to 11 weeks."
He said the Minister confirmed that those who have applied for invalidity pension now have to wait a staggering 31 weeks for their claims to be processed.
"Despite Minister Joan Burton's assertions that her Department has introduced a modernised system designed to increase the efficiency of processing applications, all the evidence shows that one year on, for those suffering the most and relying on social welfare payments, their situation is considerably worse than when this government took office," he said.
Tags: